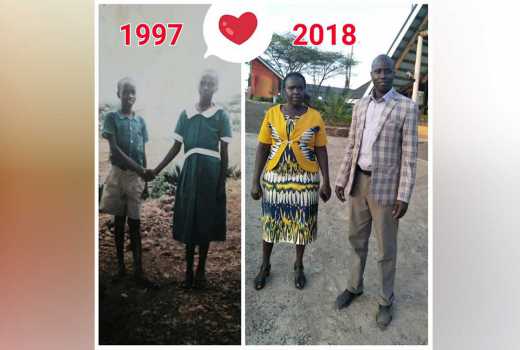 A viral photo posted on social media showed a couple at the epitome of true love on Valentine's Day. The couple on Facebook was the talk of town as their elusive love took social media by storm.
No the woman in the couple did not showcase a car she bought her man from a bank loan. And no the man did not buy her flowers aced with gift-wrapped fuel-guzzling monsters.
No, that was not it for Kirui Lukas and his wife.
He simply posted a recent picture with his wife juxtaposed with an old one, when they were primary school friends and perhaps sweethearts back in 1998.
In the old picture, the two are seen holding hands dressed in school uniform. Back then Lukas was slender boy, slightly shorter than his lady.
In a classical African pose, he's greeting her, with safe distance between them. Her lady seems shy and a little bit lost in the moment as she completes the picture.
Their love having grown in a span of over 20 years Kirui wishes his wife a happy Valentine's Day in a modest post.
"Happy Valentine's day to my childhood friend!" He writes. "My lifetime partner the mother of my beautiful kids. I celebrate you this day."
It's hard to dispute that the two are soulmates, and it's also hard to argue against love by the look of things here.
His posts stirred the internet as netizens commented and shared the picture.
One user Prisca Memo showed admiration: "Surely mumetoka mbali .mlijua love while young kids"
Congrats. That is indeed a long journey and happy Valentine one Esther Walucho commented.