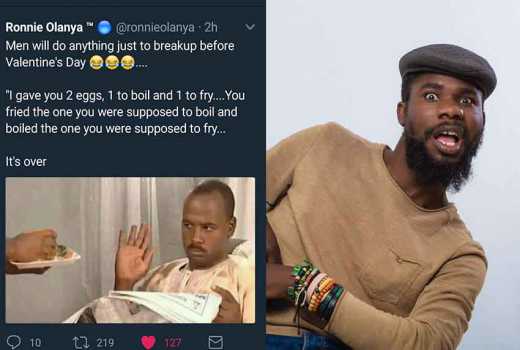 Valentine's Day is that moment in February where men are reluctantly 'forced' to shower their women with affection, parade themselves in posh spots in the city with withered roses before retreating in cranky matatus to some neighbourhoods in the city.
It is thus not surprising that some men dread this day and look for every imaginable excuse to wiggle their way out of it with the sole intention to apologize to their wives or girlfriends on the 15th when all the expectations have died down.
You deleted two of the "O"s in my "LOOOOOOL" to accomodate urs, you only care about urself, it's over!!#PreValentineBreakUpLine — I FOLLOW BACK (@BenardAmos) May 20, 2015
Some literally flee three days in advance and switch their phones off, others come down with illnesses that have not been discovered yet while others lock themselves in unending meetings and seminars or simply feign ignorance of the lover's day. The cheek of it.
I hear how dare you call me honey when I call you sweetheart that's disrespect let's break up — Ssali_K_Alex (@ssalikalex) February 12, 2018
Women can, however, attest to this that today the 13th, some men are in the hunt for any little mistake and are finding fault in whatever they do with the intention to dump them and avoid Valentines all together.
Oh. You called my name without the capital letter. Where's the respect? Its over between us #PreValentineBreakUpLine — Chilean Alicia Keys FC (@Mr_Ceyram) February 10, 2017
Here are some of the memes and jokes doing rounds on social media in relation to the subject..
15 Missed Calls? You killed my battery so You're capable of killing me.... It's Over!!#PreValentineBreakUpLine — I FOLLOW BACK (@BenardAmos) August 27, 2015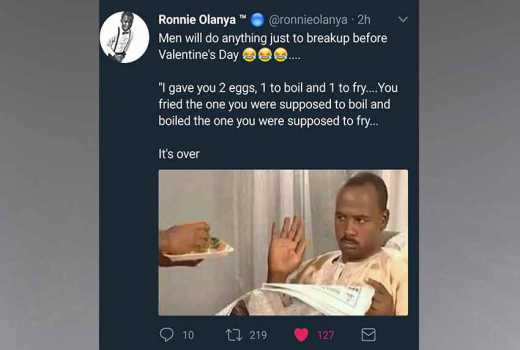 How will you send me a call a me back sms without I love you at the end...it's over???????? — Pzee'Lee (@LeePzee) February 12, 2018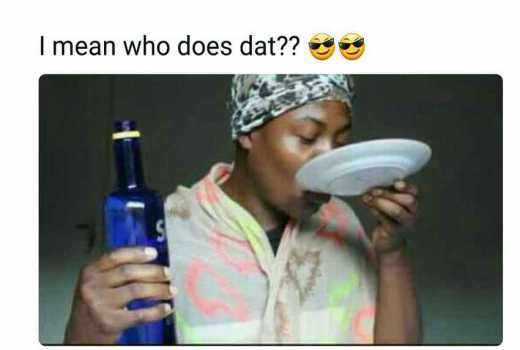 How dare you step on my shadow you want to kill me its over — Tayo (@Tayo67801671) February 12, 2018