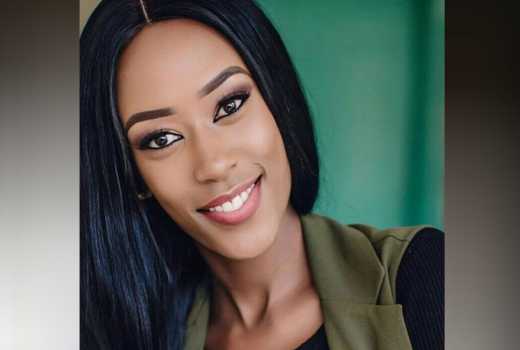 The modelling industry is known to be made of glamour and elegance but that's not all as there's more than meets the eye.
It is not only in Kenya as models all over the world also have at least one negative feedback to write home about over their experiences modelling for agencies and working with brands as paid ambassadors.
Former Miss Kenya World Sheila Kanini is one such model. She has amassed experience and reputation all though her career from the time she was crowned to now working with some of the leading brands and agencies in the country including Vera Sidika's Veetox thus her story is not just any other exposé.
Kanini took to social media to uncover the filth in the Kenyan modelling industry talking about default payment and sexual assaults. She even dropped some shocking names in the process.
Her story has initiated a trend #paymodelske and more stories have since come out.
It only needed a spark and now hundreds of models have come out confessing the struggles they have been made to go through to make it in the industry.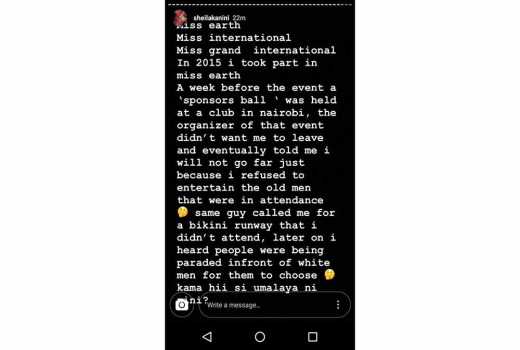 Here are some of the revolting things in the modelling industry that are coming out as models share their testimonies and experiences in the hands of exploiters:
We don't want exposure and we don't want jobs in exchange for sexual favors!!!!! #paymodelske

— Sheila Kanini (@sheila_kanini) February 8, 2018
iGet calls from random casting agents who want to get my daughters to model or do adverts whatever en after checking out #paymodelske TT! i thank My God that i never considered selling out my babies!!! @Kiss100kenya#AdelleAndShaffieOnKISS#TheBigScoopOnKISS@ADELLEO@MpashoNews — #TeamShaffie (@ShaffieWeru) February 9, 2018
#PayModelsKe#metoo
Oh the Rot!!!!! This model was Raped because of a pageant! @RobertAlai@xtiandela@OleItumbipic.twitter.com/hfkaCZBSMd — Sheila Kanini (@sheila_kanini) February 9, 2018
If you do have what it takes to be a model or a commercial Talent. You need to know what agents to consult. I can vouch to be one of them when it comes to how models are treated and their rates. That's why I don't expose models to random jobs. — Ajuma Nasanyana (@ajumanasenyana) February 9, 2018
"We don't have the budget for paying models right now, but we will give you a good platform and great exposure." I ????????need ???????? to ????????pay ????????rent!! #PayModelsKe — Sandra Joan (@TsandyJoan) February 8, 2018
The modeling industry in Kenya is a rot and a disgusting platform where agencies take advantage of young naive girls! Thank you @sheila_kanini for speaking out! Guys, follow her now..She's exposing it all!! No stones unturned!! Setting the record straight! #paymodelske — Thee Trend Setter ™ (@xtiandela) February 8, 2018
It's very unfair what's going on in the local modeling industry, just who is the exposure for when you don't even credit us for your campaign? Of course we're not happy especially considering we are to make our own way.... guys need to style up #paymodelske — Sean Andrew ???? (@sean_andr3w) February 8, 2018
I just remembered I walked in front of presidents and first ladies at KICC and The Nairobi National Museum in 2015 for a designer who never paid us, left the country and stopped responding to emails and WhatsApp messages. My heart broke afresh. #PayModelsKe — Sandra Joan (@TsandyJoan) February 8, 2018
Some experiences the models have experienced and shared. #paymodelskepic.twitter.com/Q76L9O2Znn — Amal Abdul (@AmalMAbdul) February 8, 2018