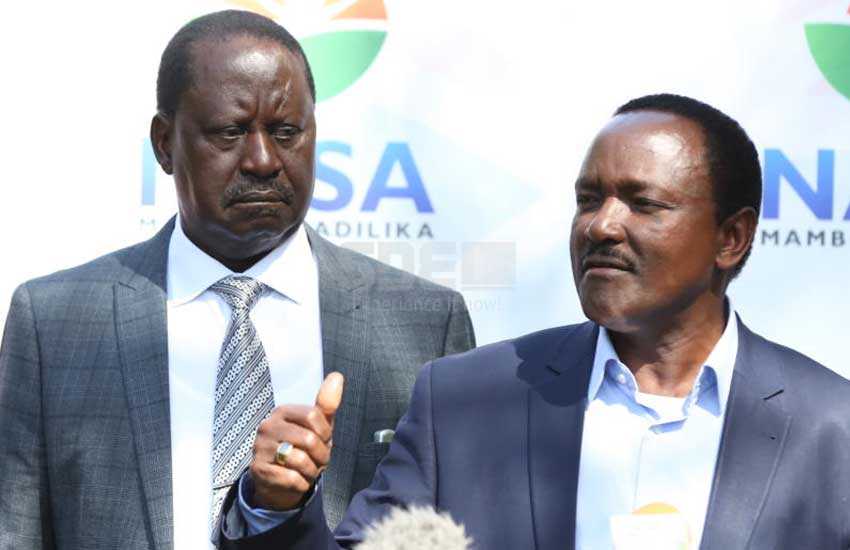 Smarting from a week-long of slurs from coalition partners after Kalonzo Musyoka missed out on Tuesday's 'swearing-in', Wiper Democratic Movement is mulling over a strategic position.
A National Executive Council (NEC) meeting called out for Tuesday next week to review this week's events may set the party on an assertive trajectory to either exact the most from the coalition or hunt for new partners, party insiders told the Sunday Standard.
Top on the agenda in the Tuesday meeting is the discussion of the 'swearing-in' betrayal and ramifications on Wiper's ability to exact political payback from NASA strongholds in 2022 presidential election.
Nearly all Wiper leaders were missing in Tuesday's event, provoking accusations of betrayal by their ODM counterparts. In contrast, the official intra-Wiper position on Tuesday's miss is that their party leader was betrayed by his colleague Raila Odinga.
This was communicated to his Ukambani stronghold by Wiper chairman Kivutha Kibwana through a vernacular radio interview. When he appeared together with Raila at a press conference on Thursday, however, Kalonzo maintained the skip was bilaterally planned by himself and Raila.
"We have a meeting on Tuesday. I am afraid you will have to wait for the leadership to issue a statement," Vice Chairman and Makueni Senator Mutula Kilonzo Junior said yesterday.
Several Wiper MPs we spoke to, directed us to Kibwana's interview for a hint on what Tuesday NEC is about. During the Thursday presser, Kalonzo and Raila called their troops to order after two days of betrayer-branding against Wiper leadership.
Kibwana's ODM counterpart John Mbadi had led the onslaught against Kalonzo, saying in a widely circulated comment: "There is no cure for a coward. A coward is just a coward, and those who were brave enough made it to Uhuru Park on Tuesday."
Another vocal ODM woman MP likened the Kalonzo miss to a bride who goes missing on her wedding day. "After a no-show on the big day, a bride cannot convince the groom in any words possible of what happened," she said.
In the radio interview, Kibwana said ODM had not been fair to the party, that its representatives at the oath planning meetings were kept in the dark and that ODM had persisted in ignoring Wiper's contribution on coalition affairs.
"There was a time we asked for a NASA retreat because there were many who were unsettled ... there are wrinkles in NASA that need to be ironed out first," he said.