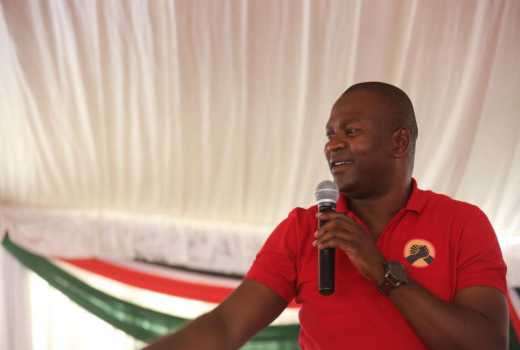 Young man from Mumias believes his is a neat case of 'grass to grace', the typical case of a man who rose from a nobody to a star
But some of those who know him dismiss his surprise appointment to the new look Cabinet
Rashid Mohammed Achesa prefers to be called a village boy. The young man from Shibale, Mumias West, believes his is a neat case of 'grass to grace'-the typical tale of a man who rose from being a 'nobody', fought hurdles, and wiggled himself straight into the Cabinet.
Those close to him have a different description. They call him a shrewd operator. A schemer not afraid of crawling low and going beneath society's morals to get what he wants. They believe his appointment into the Cabinet is fraudulent. Achesa calls them distractors.
"I worked hard to be where I am, and I will continue working with the people," he says in an interview with The Sunday Standard; a script many say he has mastered from when he formulated his political career ten years ago.
He was 26 when he took a leap into politics. Those who watched his political career take off describe him as a go-getter. A force.
Mumias West nominated MCA Phaustine Werimo says Achesa's move to Jubilee Party in a predominantly Opposition area was regarded as the ultimate betrayal. Many criticised him and tried nudging him towards the direction of where they felt he would flourish. He refused.
"When Rashid puts his mind into doing something, nobody stops him. We have to admit that he is determined and gets what he wants," says Werimo.
His appointment into Cabinet has been viewed by political analysts as a reward for staying in the heat. Achesa's journey started out as a youth leader for the then Orange Democratic Movement.
His charisma, theatrics and articulate nature made him a darling of the people. A few years ago, when tempers were up over misappropriation of funds at the Mumias Sugar Company (MCS), Achesa stepped out to 'save his people'. He organised a group of youths and they physically blocked lorries from ferrying sugarcane out of Mumias.
His ability to sway crowds however failed to bear fruits when he contested for Mumias West parliamentary seat in the concluded General Election.
When he changed party to Jubilee, many saw it as political suicide, and word around Mumias was it would take a miracle for him to bounce back. This week, he got the magic wand. He is now a Cabinet Secretary nominee.
His uncle Musa Ekaya claims Mumias erupted with celebration as soon as Achesa's name was mentioned. He says Achesa has started a historical chapter for the Abawanga community, by becoming the first to be elected into Cabinet. But others are dismayed.
"What nonsense! We all know why Rashid was named, and it has nothing to do with him being hardworking," said one of the residents of Mumias.
"People in Mumias know," he says, alleging that Achesa is the brains behind the stoning and chaos experienced in Shibale when Opposition's leader Raila Odinga was campaigning in Mumias.
Achesa denies vehemently. He says those accusing him should have reported to the police if they believed he had a hand in it. One of the biggest issues he will have to address, besides stabilising the ailing sports docket, is sanitising his image.
On social media, he is described as 'uneducated' and arrogant. When news of his appointment broke, bloggers went wild with speculation, most questioning his educational background.
"Those stories are being shared by political detractors," says Achesa. He however cannot specify the schools he attended. His critics want him to address his qualifications.
"I have seen congratulatory messages on Rashid's appointment, but I am yet to see any classmate or alumni congratulating him. Did that man go to school?" said a social media user.
Achesa is one of the youngest in the new Cabinet, taking the baton from Hassan Wario, and sprinting into one of the most embattled ministries. The sports fraternity is already laying out their expectations. Youths are making demands, and there is a long 'To do list' awaiting him.