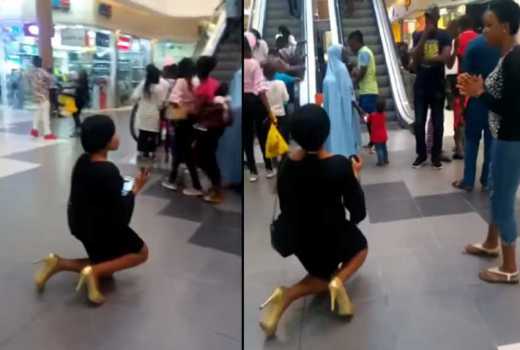 In most African countries, men normally go down on one knee to propose to the love of their lives whenever they want to get married.
Women proposing to men is however on the rise and it was thus striking at a mall in Nigeria after a lady went down on one knee and popped the question to her astounded boyfriend.
In the video making rounds online, the unidentified woman proposed as curious onlookers snapped photos away as the 'spectacle' unfolded with many prodding the man to say yes.
The man, with his hands cupped over his mouth perhaps in surprise, stood frozen for a while before he stepped forward to where she was transfixed waiting for him to say yes and whispered inaudible words to her ear.
That, was followed by tears and shouting from her as the disappointed woman watched in disbelief as he walked steadily away.
Explaining what transpired, the lady's friend revealed that the man had whispered to her that he was married!
"This lady is actually my friend, but not close friends and we just spoke on phone…
"She said the reason she cried bitterly after her boyfriend rejected her marriage proposal in public was that when he came close and whispered into her ears, he actually said he was already married.
"My question is why are men this wicked and heartless?" She wrote.