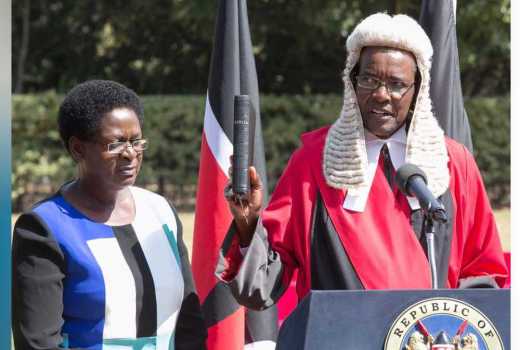 Chief Justice David Kenani Maraga is turning 67 today.
For a man known for a private lifestyle with little about him on the limelight, he has managed to rise above all odds to not only ascend to the top most position in the Judiciary but also as one of the most celebrated people in the country. This was ascertained when he won the Nairobian Person of the Year Award, 2017.
David Maraga is the 14th Chief Justice of Kenya and the President of the Supreme Court.
As he celebrates his birthday today, the CJ is remembered for ordering a repeat of the Presidential election, the first in the country's history, after he ruled that the August Presidential election was not done in accordance with the law. Through his ruling on the petition, he made history as the first East African Chief Justice to annul the election of a President.
Maraga was born on January 12th 1951 in Bonyamatuta, Nyamira County.
He schooled at Sironga Primary School in Nyamira County where he got his Certificate of Primary Education (CPE) in 1967. He went to Maranda School in Siaya County for his O-levels and Kisii High School for his A- level.
He has bachelor's and master's degrees in law both from the University of Nairobi.
A steadfast Seventh Day Adventist, Maraga successfully underwent the vetting process for the Chief Justice of Kenya where he fended off bribery and tribal accusations at one point even invoking God's name and swearing he had never taken a bribe in his life.
He was appointed to the High Court of Kenya in 2003 by retired President Mai Kibaki before serving as the Presiding Judge of the Court of Appeal in Kisumu as from 2012 until his appointed as the Chief Justice.
Maraga worked as a layer in private practice for 25 years before he joined the High Court.
The Chief Justice Age limit is 70 years, as thus Maraga is set to serve for just one term as the CJ after which the Judicial Service Commission will look for his replacement.