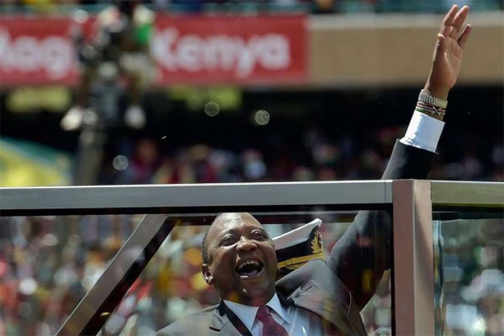 President Uhuru Kenyatta has been sworn in as the president of Kenya, to the jubilation of the crowd at the Kasarani Stadium.
With Margaret Kenyatta by his side, he took the oath of office, pledging his commitment to the country and to fulfil his duties.
The oath was administered by Chief Registrar of the Judiciary Anne Amadi will administer the oath before Chief Justice David Maraga.
Immediately after signing the oaths, the deputy president William Ruto took his oath.
Kenyans took on twitter to convey their congratulatory messages while some who were not happy about the inauguration of the President conveyed otherwise.
Below are some of the tweets:
Congratulations President @UKenyatta . Wish you all the best in the next five years of transforming Kenya to a greater nation. Hope you will contend against all vices that undermine national unity. #InaugurationKe#KenyaMbele#NASAMemorialpic.twitter.com/bJfO5kGrRu — Benatta (@MuriukiBenatta) November 28, 2017
Who believes these things @UKenyatta is reading when we have lived to see people walk with banners looking for jobs! What a pathological liar benevolent dictator we have #InaugurationKE#NasaMemorial#CoronationKe — Ougo Mandela (@ougomandela) November 28, 2017
#InaugurationKe power tariff charges for manufacturers will be reduced from what % to what ??
May you keep you word Mr. President
From 5th Dec
With all due respect Me. President keep your word — Duncan Mugah (@mugahduncan) November 28, 2017
#InaugurationKe

Looks like Uhuru has plagiarized Obama's inauguration speech of 2008 — EX_WARLORD (@Ex_Warlord) November 28, 2017
President Uhuru Kenyatta & Deputy President William Ruto during their #InaugurationKe at Kasarani asks God to them & swear to protect the Constitution & at the same time depriving others of right to life! They are detaining people at their homes, ferrying faeces to Jacaranda! — Collins Nyabende (@pmiyogi) November 28, 2017
#InaugurationKe congraturation Mr president Uhuru Kenyatta and Deputy president William samoei Ruto — James Kuria (@kiragujamesk) November 28, 2017
#InaugurationKe congraturation Mr president Uhuru Kenyatta and Deputy president William samoei Ruto — James Kuria (@kiragujamesk) November 28, 2017