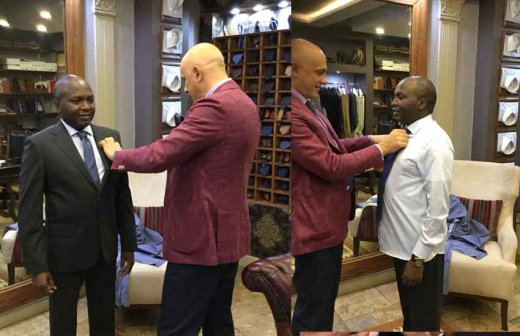 Flamboyant city lawyer Donald B Kipkorir wears suits worth over Sh400,000
Kipkorir wrote on Facebook that he had asked his Italian tailor to come over take measurements for more suits
The flamboyant city lawyer is known to flaunt his expensive lifestyle on social media.
Flamboyant city lawyer Donald B Kipkorir is a man of means. His taste in the finer things in life and flashy lifestyle has often seen him make headlines on social media on several occasions.
This week, his Facebook followers got a taste of flair after he posted that he had flown a designer from Italy to make him a suit as therapy following the turbulent political season in Kenya.
"When The Canaan Trip Stalled, I Opted For Mediterranean Therapy!
"To heal from political trauma, I asked my Italian Tailor, Roberto Rizzoti to come take measurements for more suits … We can lose on political lanes, but not on sartorial ones. Life must go on," wrote Kipkorir.
When asked on by one of his curious followers on Facebook how much his suit costs, he replied that he coughs out a cool $4000 US dollars which translates to about Sh400, 000.
The lawyer known not to shy away from controversy had last year received a backlash on social media after he posted pictures of his brand new Range Rover Sport HSE 2016 model with customized plates at the RMA Motors showroom.
 His post was met with a lot of hostility from Kenyans who do not appreciate his flaunting ways saying he is too much of a showoff.
Senior Counsel Paul Muite was one of the people who felt that Kipkorir's posts were uncalled for as no one was interested in knowing what he owned.
Some Kenyans cheered him on telling him to spoil himself and that life is short.