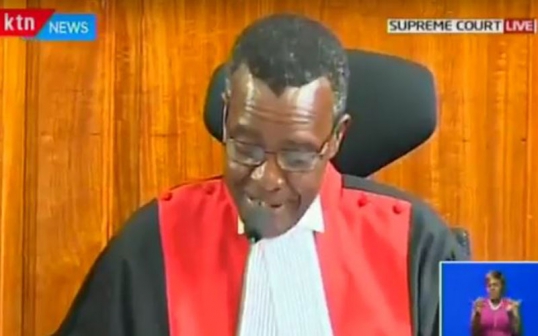 The Supreme Court of Kenya has today delivered their verdict on case filed by former Kilome MP Harun Mwai and two other Kenyans.
After two days of retiring to deliberate on the issues raised, The Supreme Court Judges have dismissed the petitions.
In his reading, the President of the court said they had paid attention to the specific prayers of petitioners as well as constitution in delivering their decision.
 "The court has unanimously determined that the petitions are not merited," Maraga read in his brief ruling.
"The petition of Harun Mwau vs IEBC is hereby dismissed…and therefore the presidential elections of 26th October is upheld," The Chief Justice finished.
Former Kilome MP Harun Mwau had petitioned the Supreme Court to invalidate the repeat presidential election, arguing that it did not comply with the Constitution.
His main argument was that Mr Kenyatta was not validly and legally elected and cannot be sworn in given that he was not properly nominated to contest in the fresh polls.