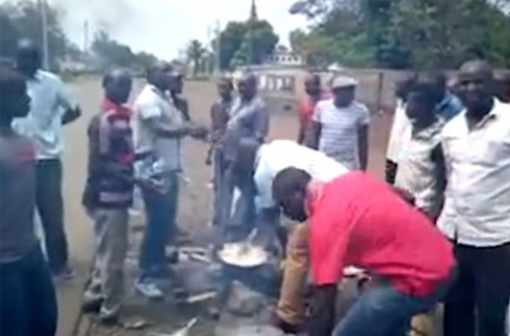 NASA strongholds have been on the headlines with cases of riots over the repeat presidential poll
A group of protesters excited the internet with a video of them having a lunch break
In the video the group is preparing lunch over a mark shift three-stone stove by the roadside
Protesters took some time out from their confrontations with the police to prepare a meal by the road they had apparently barricaded.
In the video that has since gone viral, the group of protesters are seen taking part in preparing ugali with vegetables over a three-stone mark shift stove.
In four Nyanza counties, the elections have been postponed to a later date owing to hostility of the residents towards the exercise.
Youths engaged police in running battles on the voting day forcing the electoral commission to abort the exercise in the county.
Nyanza area is a perceived NASA stronghold and the locals boycotted the elections honouring the call by their party leader to do so.
The violent clashes between the police and the rioters have seen cases of fatalities and injuries reported.
Despite a section having mixed reactions, the video has mainly left netizens in stiches:
Re energizing ???????? — Aggie Saru (@AgnettaSaru) October 26, 2017
???????????????????????? boycott break — Mercy Auma (@AumaMercy) October 26, 2017
???????????????? — Alialwi Ahmed (@alialwi_ahmed) October 26, 2017
Ujaluo ni software.... — #LuoLivesMatter (@nyakwaronduru) October 26, 2017
Crazy???????????? — Abela Jr (@AbelaJunior) October 26, 2017
He heee my brothers on another league!! ???????????????? — Bonny K'ochieng (@orengbonny) October 26, 2017
You guys are funny — Mary Kioko (@merrymarie16) October 26, 2017