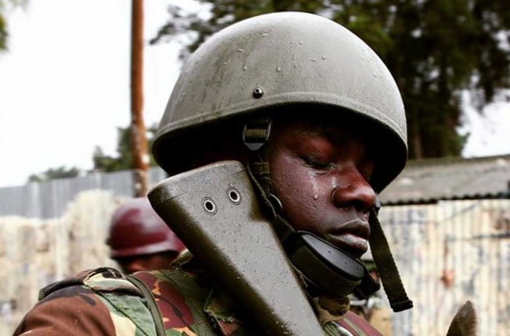 The picture is of an officer in anti-riot gear shedding tears
Kenyans have weighed in with their varied views of what might have been going on with the officer
A picture of an anti-riot police officer in tears has gone viral on social media. The officer, in full riot gear, is captured with streaks of tears flowing from his closed eyes.
The image has moved Kenyans in the wake of clashes between the police and opposition supporters over the botched repeat presidential elections.
The viral picture has caused debate as it is not clear what exactly was going on with the unidentified officer.
Since the picture was taken in the rain, a section of commenters argue that it is rain flowing on his face while another critical lot claim that the officer was overwhelmed by teargas fumes.
However, a majority of Kenyans found the picture emotional and empathised with the officer claiming he was not happy about the police brutality himself.
Here are some of the comments shared by Kenyans over the picture:
Kenya's situation in one picture. #KenyaPoll#ElectionBoycottKE#BirthdayNiWewe ???????????????? pic.twitter.com/hKQdJDHjT5 — Collins Ogutu (@CollinSportika) October 27, 2017
Our officers too are tayad , emotional ,angry and fed up . Wanatumiwa vibaya and ths madness must stop ! pic.twitter.com/00Fn3Fas2u

— Leon Lidigu (@LeonLidigu) October 27, 2017
This has broken my heart too. How this police officer is forced to kill his own people is unbearable. I guess he had to Cry #KenyaPollpic.twitter.com/AMMlYBWrlY — Maye Edwin (@mayeedwin1) October 27, 2017
In his soul searching I don't know what was going on in him but indeed this photo captured the royalty to duty than his feelings!#KenyaPollpic.twitter.com/Kfg0UMpU9l — DENNIS MOSOTA ONSARE (@denisonsare) October 27, 2017
I don't know what's going on but this photo captured my attention! ???????? Please God make these elections disappear #KenyaPoll ©???? @BrianIngangapic.twitter.com/fAnoKJ7B00 — JanetMachuka.Com (@janetmachuka_) October 27, 2017
#KenyaPoll what would make a man, sorry, policeman cry? Only @FredMatiangi will tell pic.twitter.com/9SAELDPOJu — Gideon Kioko_Pst (@Kioko_Pst) October 27, 2017