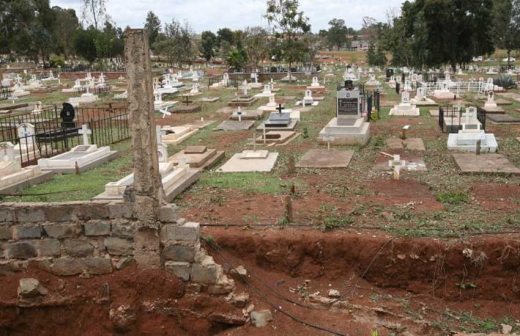 Langata cemetery is never full due to 'grave recycling'
After running out of space bodies are now getting buried on top of others
According to the authorities, a minimum of 30 bodies are buried every week
Many African cultures, for the value of what lies beyond the veil, prescribe a decent send-off for their dead.
This is a culture that is slowly fading amid the increasingly challenging search for a resting place in the city.
"Rest in peace, my child," said Philip Odeyo, a city resident, after burying his nine-month-old son at Lang'ata Cemetery in 2014.
Today, all he holds is a photo of the boy who, despite failing to survive this tough world, could not find a peaceful resting place in death.
"Words have never been so empty. Knowing that you were burying your child on top of another body is disturbing," said Mr Odeyo.
"And it kills to know that another stranger will be buried on top of him and that his memories will soon pass with the wind," he added.
His remarks vividly tell the story of 'grave recycling' at Lang'ata Cemetery.
Kenyans still remember that the cemetery was declared full by the defunct Nairobi City Council in 1996.
Twenty years later, bodies continue to arrive for burial every day. According to the authorities, a minimum of 30 bodies are buried every week. 
When we arrive there at around 11am, we are greeted by concrete graves outside the gate, which would extend if the road wasn't in their way.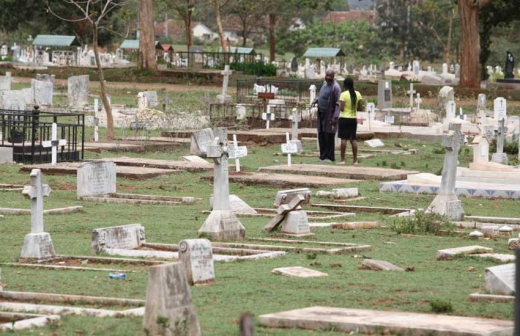 A ledger at the cemetery shows the facility was first opened in 1958 and Robert Lockead was the first to be buried there. His cause of death remains unknown, but he died at the age of 74.
Funeral service
It's a Monday and there is not much happening save for a group of people standing under a tree at the far end of the 150-acre plot, holding a last funeral service before the send-off.
The preacher's high-pitched voice can be heard vividly, blended with a rhythm of echoes from the graves across the distance. His blue and white satin suit shines in the scorching sun.
Three men, one dressed in cycling attire, surround another grave that has a roughcast finish.
As they try to fix the wooden cross that appears to have fallen off the grave, they complain about how congested the place is and how difficult it is to have it properly tended.
Another group is holding hands, eyes closed either in prayer or a moment of silence. Making sure not to interrupt, we walk carefully along the narrow spaces between the graves.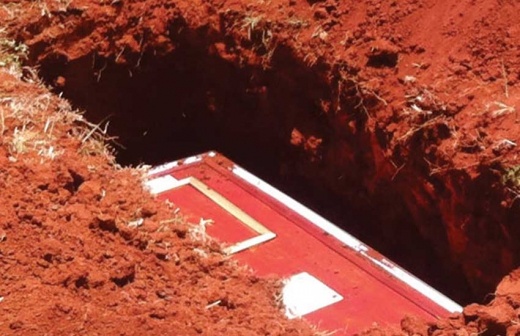 "The economy does not affect those in la-la land," quips an attendant who declines to be named as we wait to talk to the officer in charge.
Right next to the road are graves from ages ago. They are decorated with piles of sand and crosses fixed on top.
"This is where the whites were buried. They had their own entrance here while Africans were taken to the northern side of the cemetery," explains the attendant.
Permanent graves
Today, this is the location for permanent graves, where the cost of burial is almost five times the cost of getting a temporary grave. Even in death, the rich and the poor never interact.
"A permanent grave costs Sh30,500 while a temporary one cost Sh7,000," he says.
The temporary graves are a 'bury-and-go' affair - meaning the bodies will be disposed of after a few months. When making payments, one is told the grave will remain intact for at least three months.
But Odeyo has a different story.
"After a month, I went back but could not find my son's grave," he says.
"They all looked the same and the cross was missing. Finding where your loved one is buried is impossible. We understand that soon after you leave (having buried your loved one), another person is given the grave."
As we tour the expansive graveyard, sometimes forced to step on the graves, it becomes clearer that the place is stretched way beyond limit.
The attendant informs us that it is no longer even possible to bury people in the requisite six-feet-deep graves.
"This place is properly demarcated. We know the places where we buried people six feet under and so when one is looking for space now, we direct the gravediggers not to go beyond the original depth," he says.
"Six feet only applied in the 1960s and 1970s, when there was more space than the number of deaths. Today, we dig four feet, then three feet, depending on location. We cannot turn people away."
The attendant says many people freak out at the thought of having to bury their dead together with strangers. 
Many Nairobians prefer to bury their loved ones in their upcountry homes, but the high costs of transport and other funeral expenses are simply out of reach.
City's population
As the city's population continues to increase - it is an estimated three million today - it will only strain the cemetery more.
In 2010, a scandal unfolded as residents learned that the City Council was alleged to have paid about Sh240 million for approximately 50 hectares of land to use as an alternative cemetery location.
Located on the outskirts of the city, the land was worth about 10 per cent of this amount and had no title deed.
Senior Government officers, including the mayor at the time, were implicated in over-valuing the land and several were suspended from their positions.
The land at the centre of the controversy was deemed too rocky for a cemetery, but no alternative location was earmarked.
Until alternative land is identified in the city, residents will continue to make do with burying their loved ones in an already full Lang'ata Cemetery.