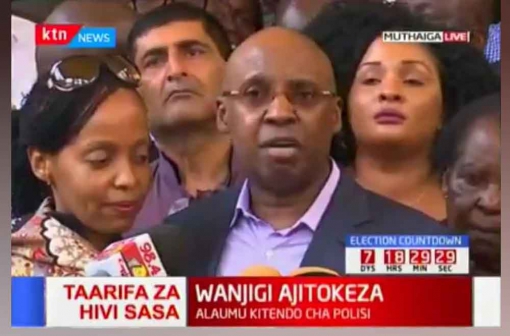 Police raided business man Jimi Wanjigi's Muthaiga residence
Firearms were recovered from the house
The family has come out claiming that the firearms are licensed
Reacting to the raid, the mogul claimed that the government permitted the raid at his home yet the government was formed in that very home
Addressing the press on Wednesday morning at his Muthaiga home, business mogul rebuked the police action against him and his family saying that he is innocent man being falsely accused.
Earlier on, police recovered six pistls and a shotgun at Wanjigi's home and the officers from the Special Crimes Prevention Unit camped at the residence after ransacking the house looking for weapons, documents and any other material that could facilitate their investigations.
"All these are persecutions. Am an innocent man as I stand here… whatever was found in this home are licenced firearms. The police never bothered to try and ask us or to justify their presence in this home" Wanjigi said.
In his statement, Jimi sadly noted that it was terrifying what might be happening to the living in other parts of the city considering that such ruthlessness would happen to those living in the serene and well-off suburbs of the capital. This he said in response to accusations that the police assaulted his wife when she tried to record them breaking the house.
"If they can do this to some of us living in these suburbs, it is frightening what might be happening to the small mwanainchi," he said
The business man, flanked by his family including his wife Nzisa and his aging father Maina Wanjigi, said that he was being framed baselessly and insinuating that it could be because of his political stand.
"This is a home that this current regime of Uhuru Kenyatta knows. It is a home they have visited; it is a home they have eaten many many times. In fact, their government was formed in this home," Wanjigi said accusing the government permitting the police raid at his home.
"It is in this home that Raila Odinga agreed to come and shake hands with Uhuru Kenyatta after the Supreme Court upheld Uhuru's win in 2013."
"This regime has come to destroy this home over political reasons. It is the same home that the same regime has come to disintegrate because of my support for baba which is unwavering and unshaken. It is my democratic right and every Kenyan's to choose and support whoever we want. It is unfortunate that we are getting victimized." He added.
Reiterating his son's sentiments, Maina Wanjigi told off the police saying that the home was a private resid3ence and that it was up to the family to decide who visited them or not.
"This is a private home and it is we who decide who we admit to the home," Mzee Maina Wanjigi said commenting on the blocking of Raila Odinga and Senior Counsel James Orengo from accessing the home by police officers camping at the gate.
Related Topics