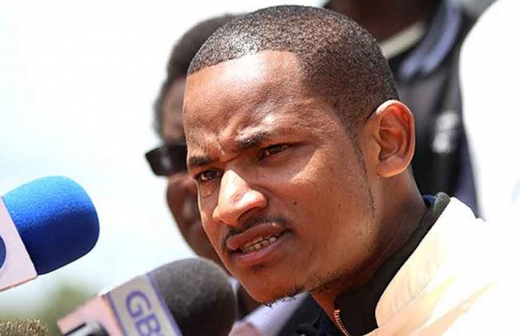 The Babu Owino phenomenon began at the university, where he was student president a record four times
Tibim, show of Guns, foul mouth and violence are synonymous to first time Opposition MP
It is the same psyche he has exported to the august House
One gloomy afternoon in 2015, a fired up lone preacher, or so he acted, surrounded by a band of loyalists took to the space between the Jomo Kenyatta Memorial Library and the iconic Hyslop Building inside the University of Nairobi main campus.
A spate of mysterious deaths had hit the university and the make-believe preacher wanted to intercede on behalf of students. A phony sign language interpreter besides him, the lanky preacher with Bible on one hand swung this way and that way, dangerously wagging his forefinger.
"Comrades we must repent! Today, the angel of death is looming around, filled with hunger and anger. He wants to eat comrades for certain extenuating factors," he yelled to equally fired up comrades standing on the sides.
Daring and reckless
"If we must kill one policeman to save all comrades then we must do it," he surged in reference to police officers who had surrounded the university, only pausing to quip: "Hey, who is feeling the Holy Spirit?"
That was Students Organisation of Nairobi University (Sonu) president Paul Ongili aka Babu Owino in his daring and reckless element that characterised his record-breaking four-time stint as student leader.
Riding on the 2010 change Sonu constitution wave, which made Module II students eligible to vie for top student leadership, Babu, an actuarial science student romped into victory in 2011 on a popular wave fanned by both Module II students and first-years.
In that bolt from the blue, which caught the administration napping, the university students changed leadership from the articulate, focused and emotionally stable David Osiany to the jagged, inconstant and popular Babu Owino.
"These things have their own dynamics and Babu came at a time when populism was becoming the new national norm.
Being a module II student, he was financially stable. My impression of him then and even now is that he is a rational being, but the exigencies of populism politics push him on the edge of those tongue-in-cheek moments we know him for," Osiany says.
With Babu firmly in office and riding on the phrase that "a student is always right", the university was ushered into a new regime of a recklessly assertive student body which seized every opportunity to size itself up.
Speaking in tongues, rough on rivals, flashy to the teeth and daring anyone to a duel, the Babu phenomenon begun to build up at the university. He threatened everyone - from ministers to journalists and fellow students.
"It is obnoxious, belligerent and cantankerous. And this has caused consternation and discomfiture of spirits," he told a national press conference on the death of student Mercy Keino.
His ostentatious lifestyle, throwaway phrases and carefree attitude was not in vain in a city where vice is extolled in the place of virtue.
He started attracting the interest of showbiz journalists, earning himself invitation to talk shows where he left them more dumbfounded.
And Babu was firmly on the line to making history at the university. At his graduation in 2014, he caused a scene on the graduation square, arriving like a prince in an entourage of high utility vehicles and "men-in-black" in tow.
Soon thereafter, he registered for a law degree, styling himself a savior of students. Like the archetypal politician, he would claim that students implored on him to run again.
"Sonu was defiled in my absence, the students called me to their rescue. I had to obey lest I be swallowed like Jonah of the Bible.
In my times, students were eating chicken, after me they started eating like chicken and with chicken," he claimed in 2015.
Students who participated in his campaigns say they were a mixture of the good, the bad and the ugly. It is during his campaigns that some of the worst forms of pre-election and post-election violence happened.
'Saviour of students'
Students were stabbed, money changed hands, gunshots fired, teeth broken and that kind of stuff. His last election in 2016 saw the SONU main campus office burnt down in post-election violence.
"Babu Owino is Idi Amin reborn. He is barely intelligent. He can hardly make a sound statement - most of his statements do not make sense. Every statement he makes is a lie," Amos Qeeto wrote on Youtube clip at the height of one of the campaigns.
The contradiction in his conduct and lifestyle notwithstanding, Babu was always a cut above his peers in political ingenuity. It was easy to spot the political genius in him even after being walloped by Tim Wanyonyi in the Westlands parliamentary seat in the 2013 general election.
In TV debates, he compensated for his lack of oratory skills with brutishness of a yokel. A classic case is a TV debate between him and one of his rivals in 2015 when he showed up with a fake results transcript of the rival and went for his jugular within the limited time of a TV show.
"Look at his hair. He has dyed his hair. Is this a university student or a thug? Look at his results… he scored zero. He's wasting his parent's money. I cannot condone an academic dwarf becoming a leader," he fumed on set.
To his credit, Babu turned out smart especially to those who underestimated him. TV journalists, including old staggers in the game like Mutegi Njau, got rude shocks of their lives when they attempted to corner him.
"Do you own a gun yourself," Njau once asked him after he admitted that some of his supporters fired gunshots on his behalf at a university meeting: "I don't have a gun. I am just getting one in the course of the week for protection," he answered.
When it suited him, he turned a buffoon. When former US President Barack Obama skipped UoN from the list of institutions he was slated to visit, Babu "by the authority of the furiously intelligent 84,000 students" wrote an incomprehensible letter imploring him to pass by.
He claimed the students were so sad and distressed that 18 of them had given suicide notices.
Through-out his terms as UoN's most popular student, Babu always maintained he was not wealthy. He claimed his real wealth was in heaven. He was vulgar to the core and he specialised in epithets calling rivals nincompoops, village salads, caricatures, moles and scum bugs.
Bright future
When these did not suffice, Babu came up with slogans and catchphrases, some garbled like "Riaaaat!" "Tialala," "Tibim!" which he has since exported into the mainstream politics.
"He's brilliant in his own way. To have your slogans adopted in national politics requires a special kind of brilliance that is only peculiar to him and few others," Osiany says of his successor in SONU leadership.
The trajectory the two have taken after their student leadership depict the tragedy of our politics. While Osiany's stint at Sonu helm did not attract a whiff of strife, he lost out on his Rongo constituency political bid earlier this year.
In turn, Babu, whose terms were littered with drama, won the Embakasi East parliamentary seat and with the ongoing Jubilee efforts to elevate him through arrests, he appears to have a bright political future.
Long before August 8 election, it was easy to see why he was going to be elected. He transferred the whole lot of his UoN legacy to national politics - epithets, slogans, stubbornness, insults, the whole lot of them.
"The only negative results Raila should accept is HIV negative results." "Marwa ni mikebe ya blue band." "Matiang'i ni gunia ya makaa." All these and more were the precursor to insults on President Uhuru Kenyatta.
If all the drama that characterised his stint at Sonu is anything to go by, Babu's show in national politics has just begun.
Everyone should fasten their belts for a man whose motto in life rings true to his hasty life: Never lose sight of a gazelle for a dashing squirrel.
Related Topics