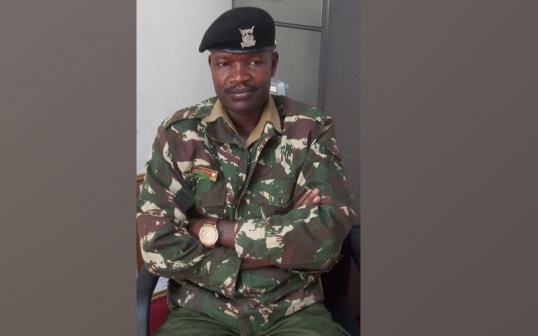 According to the Administration Police officer based at Embakasi, music spices his mission to his fellow officers and the public
Ereng wants to open Turkana to the world and encourage youth
To many Kenyans, police officers are just abrasive, humourless and bribe-seeking characters.
But one officer has managed to shed the stereotype to become a gospel singer. Thirty-three-year-old Administration Police constable Simon Ereng uses gospel music as an extra cache in the fight against evil and crime.
He says serving God has made his work for humanity easier. According to him, music spices his mission to both the police and God.
"With God everything is possible. Our work is a calling to serve humanity," he says during the interview.
"I am happy with the direction my effort is taking. I am glad that I have been able to reach out to a number of citizens besides changing their negative perception towards the police service. This is a sign that I'm heading in the right direction," says Simon who hails from Lodwar in the vast Turkana County.
Before embarking on a journey to a recruiting centre in 2008, Ereng had spent three days praying and fasting. In his words, he was "preparing his spirit for a long journey".
Promise to God
He says, "I fasted because I wanted to be a police officer to help my mother and sisters. My father died when I was still young. Our family depended on this job. This is what I told God for three days."
And his prayers were heard. That is how he made a decision to become a gospel singer.
"Although I arrived late at the recruiting centre in Eldoret, one officer said there was a vacancy for someone from Turkana. My prayers were answered," he said.
The previous mechanics training he had received at the National Youth Service came in handy in his listing. In 2013, together with his wife Janet Mwikali Ereng, they released their first album titled Nimekataa Kushindwa (I refuse to be defeated). This, he says, was meant to capture his journey so far.
"Turkana is full of stories of hopelessness. The majority of the youth are disillusioned. I didn't want to end this way. The album spoke of my conviction," adds Ereng'.
For a person who dropped out of school and had to sit for his Kenya Certificate of Secondary Education as a private candidate, his determination was clear. Ereng, who is a driver based at the Embakasi training college, adds that through gospel music he wants to give a different perspective of the police service.
 "We are all human beings who can make mistakes. A few rotten mangoes can't condemn a whole sack. Through the songs, I am fostering closeness with the public who are our clients. I am also telling all that police officers have time for their creator," says Ereng'.
As a demonstration for his commitment to fellow youths from Turkana, part of the proceeds from his music goes to supporting a Turkana football team in Laikipia.
"This is the first football team from Turkana. I want to show the world that everything is possible if we believe in our people," he said.