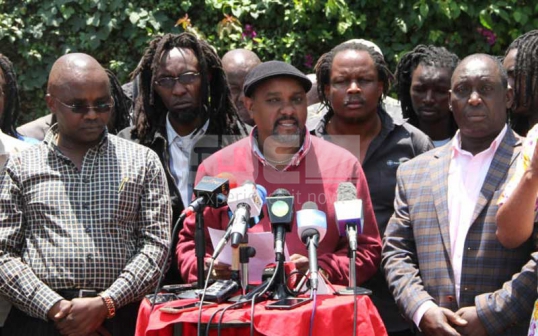 On 24th September, NASA leader Raila Odinga called on his supporters to turn out on 26th and physically remove IEBC CEO Ezra Chiloba from office.
Following the planned protests by the opposition, a group by the name Gema Business Community said its members would come out in large numbers to counter the protestors, whom they accused of intending to destroy their investments.
The group's chairman, Wilfred Kamau while flanked by dreadlocked members of the group accused the opposition of using protests as an excuse to cause chaos and destroy the economy.
The group's dreadlocked members subsequently gave rise to the #NairobiBusinessCommunityChallenge, which has swept across the nation, attracting Kenyan celebrities among them Boniface Mwangi, Juliani, Anto Neo Soul and Ciru Muriuki:
#NairobiBusinessCommunityChallenge
My floor community members, tag me in your pics! pic.twitter.com/tAPFcG71Pq — Ciru Muriuki ? (@CiruMuriuki) September 28, 2017
#NairobiBusinessCommunityChallenge (Governor Bonnie was my radio name when l was working at @GhettoRadio895 breakfast show.) pic.twitter.com/0IP5XDmJXw — Boniface Mwangi (@bonifacemwangi) September 29, 2017
Do we qualify? #NairobiBusinessCommunityChallenge@CarolineMutoko@bonifacemwangipic.twitter.com/wybCBtuYHe — Karungo wa Thang'wa (@KarungoThangwa) September 29, 2017
Y'all know I already won this #NairobiBusinessCommunityChallengepic.twitter.com/0BiRwpLFce

— CLOSER (@antoneosoul) September 29, 2017
Mine they still be growing #NairobiBusinessCommunityChallengepic.twitter.com/DGG6yfZWhw — __roxy? (@roxkimutaikoech) September 29, 2017
Sisi kama #nairobibusinesscommunity#NairobiBusinessCommunityChallengepic.twitter.com/pHygEua6hk — JULIANI-INC (@JulianiKenya) September 29, 2017
#NairobiBusinessCommunityChallengepic.twitter.com/K4THHXuGqU — Macharia Gaitho (@MachariaGaitho) September 28, 2017