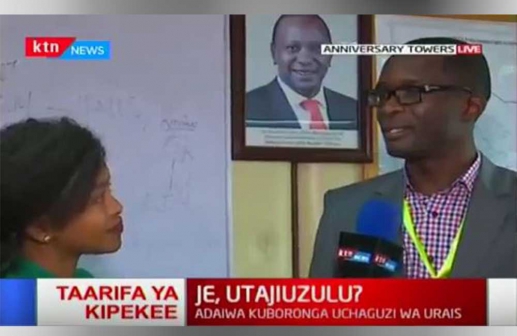 NASA supporters are demonstrating against the IEBC conducting the October 26th repeat elections
IEBC CEO Ezra Chiloba is at the centre of the demands as the opposition want him to resign
One person arrested and one injured at the anti IEBC demos, Nairobi
NASA protestors have camped outside the IEBC head offices at the Anniversary Towers since morning chanting slogans that 12 IEBC employees vacate office before the repeat presidential elections can be held.
The demonstrators were on University Way and Uhuru Highway and they have since been dispersed by police using teargas as they were growing rowdier by the moment following the counter demonstrations by Jubilee allied Nairobi Business owners.
The demonstrators are demanding that IEBC CEO Ezra Chiloba resigns before the country can have the presidential re-election scheduled for October 26th.
In an exclusive interview with KTN News, Chiloba responded to a question on whether he will resign or not by being neutral and saying that his intention is to discharge his responsibilities as the IEBC CEO.
"I have not thought about that. What I know is that I got a responsibility before me and I have to discharge that responsibility." Chiloba said.
"The country should calm down from anxiety and tension. Sit down and see how next election can be done." He said.