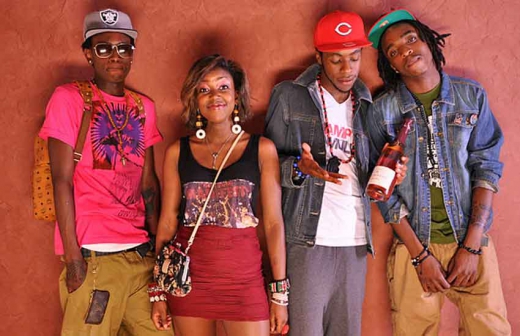 News of Camp Mulla resurgence have excited fans countrywide
This is after the group went on a five year hiatus after going their separate ways back in 2013
The group are reportedly set to drop an album soon
Are the trailblazing hip hop group Camp Mulla back?
That is the question on everyone's lips at the moment after news of the groups re-union filtered through exciting fans everywhere five years after they split up.
Camp Mulla was the surprise act at the much hyped concert featuring Nigerian superstar Tekno Miles over the weekend where they performed alongside The Kansoul.
CAMP MULLA are back Africa!!!! pic.twitter.com/Ezrl2MBmv0

— Broski (@ReubenNyaribari) September 10, 2017
Excitement was at fever pitch at the event and fans gave the group a thumb up for lighting up the vent despite the mishaps experienced when Tekno did his less than 15 minutes performance.
For the diehard fans though, Miss Karun is reportedly back and the group will be dropping an album soon.
Humbled by the reception last night. #Mulla17pic.twitter.com/Paf2sBzAgY — CampMullaOfficial ???? (@CampMulla) September 10, 2017
The group fell apart in mid-August 2013 after the founding members decided to go their separate ways despite enjoying stellar success across the continent and beyond.
Kenyans deserve that Tekno show. Campmulla makes a comeback and all you're talking about is how bad Tekno was ???????????? — Bien-Aime Baraza (@bienaraza) September 10, 2017
In a presser issued that year by Camp Mulla's then record label, Sub Sahara Entertainment, Miss Karun had left the group to prepare to join university in the USA that  August, 2013.
Another member The Taio Tripper had also on the same vein decided to pursue a solo career.
"It is true that Miss Karun is no longer with the group; she has left the group to prepare to join university in the USA in August. She's also working on solo projects. Another of the group's former members, Thee MC Africa (previously known as The Taio Tripper) is also pursuing a solo career. Both Miss Karun and Thee Mc Africa are wished all the best in their pursuits. "Read the presser in part.
Kus Ma and Shappa remained and carried the mantle of Camp Mulla but did not enjoy the successes they had shared as a unit with Miss Karun and The Taio Tripper.