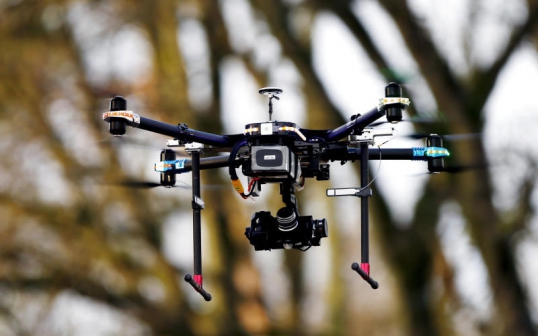 New move was meant to increase collection of requisite fees
The initiative aims to determine the number of cars in given parking slots and cross-checking the data against the day's cash collections
City parking services will soon be monitored by drones operated by the county government.
Motorists will have a hard time dodging the Sh300 parking fees because the drones will rely on an aerial imagery data gathering module to identify and nab defaulters.
Web Tribe Company, which is in charge of automating 14 county revenue streams, is slated to take charge of the drones on behalf of the city government.
Speaking to Metropolitan, Web Tribe CEO Danson Muchemi explained that the drones would be used to determine the number of cars in given parking slots and the data cross-checked against the day's cash collections. This will show how many motorists have not paid for parking.
Mr Muchemi also said the initiative was meant to increase revenue collection by ensuring that all parking space users paid for the service.
Request made
He explained that a request had already been made in writing to the Kenya Civil Aviation Authority (KCAA). He said the county had requested two drones for a pilot exercise expected to cost the county government Sh10 million.
"The drones will fly across the parking areas in the city twice a day, capturing and relaying the data to our servers. Each of the drones will cost us Sh4 million and another Sh2 million will be used to set up a software to run it," said Muchemi.
In a letter dated August 28 and seen by Metropolitan, Jambo Pay, the company in charge of collecting parking revenue, requested the approval to import and operate two drones for revenue enforcement. It was addressed to KCAA.
"Part of our mandate for the Nairobi City County is the enhancement of revenue collection through provision of timely and accurate compliance data. We have developed an aerial imagery compliance data-gathering module that will require us to deploy a drone to collect parking compliance data," read the letter in part.
"We hereby request your approval of importation and operation of the two commercial drones," it added.
First city
Muchemi stated that if the project was successful, Nairobi would be the first city in Africa to adopt the drone module of operations.
He added that the city would be borrowing a best practice from China, which has implemented the technology in various cities to monitor motorist behaviour.
The project comes against the backdrop of a revelation that the city loses approximately Sh18 million every month in parking fees.