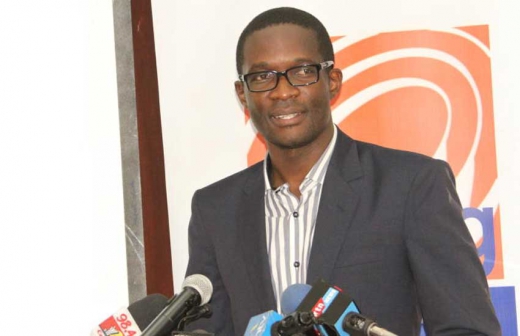 IEBC CEO Ezra Chiloba's public office is not for the faint of heart
The CEO showed me 4,580 unread text messages and 2,300 "untouched" WhatsApp that had bombarded his iPhone since the election
He reiterated that he was not the guy to cut deals with
Weary, wry but willful. This was the state of the Independent Electoral and Boundaries Commission (IEBC) CEO Ezra Chiloba when we stumbled upon him at his sixth floor Anniversary Towers office on Friday afternoon.
After weeks of braving national limelight laced with threats, lust, catcalls and suspicion, the staunch Adventist was haggard.  
He yawned, rubbed eyes and sunk in his seat but surged heartily every time he gulped his favourite latte coffee.
High public office is not for the faint of heart, I thought, as he showed me 4,580 unread text messages and 2,300 "untouched" WhatsApp chats which have bombarded his iPhone since the election.
"Chief, I am not the guy you want to cut deals with," he said of claims the commission he presides over fixed the presidential poll.
I cut him short: "But deals are cut."
"But with who? Certainly not me. I think that's exactly the problem people have with me. I insist on certain bare minimums and they just do not know how to deal with me. I guess that is when they resort to these sorts of things as slander," Chiloba retorted.
For a long time now, the man has battled public impression of an insidious operative working at the behest of President Uhuru Kenyatta and his Deputy William Ruto's boon allies. The claims that the presidential poll was rigged has added swell to the impression.
"Chief," he sprang forth from his seat menacingly and shot at me. "I had never met Jomo Gecaga (President's Kenyatta's personal assistant) until December 8 last year when he brought the President's papers here.
And I was like, so you are the guy? Up to this point, I can't pick out the President's brother, Muhoho Kenyatta from the crowd. I hear he was in Bomas but I didn't see him."
He says he met Gecaga again in Bomas last week when he came to complain about the flooding of the place by NASA agents: "In a polite but firm way, I told him to leave us to do our job and that was it."
As to the acclaimed close links to DP Ruto, he admits close, personal and professional ties with the DP's advisor Dr Korir Sing'oei, a man they share not just a village but also an accentuated twang.
"He's like my brother. Apart from the fact we come from the same village, he gave me my first job at Centre for Minority Rights back in my second year in campus. This is a man I have a natural connection with but that's as far as it goes. We don't discuss commission stuff with him," he says.
At the height of the reorganisation of the commission last year, the man was in crosshairs of both sides of the political divide.
While CORD operatives thought he was close to Jubilee, the Jubilee operatives thought he was mingled, in blood terms, to top CORD leadership.
'False pride'
"I heard that I had a girlfriend in CORD leader Raila Odinga's daughter Rosemary. There was even a rumour that I sneaked out to check on her in South Africa. I hear all these sorts of things and I am taken aback... in a way, I like it because it keeps people floating about while I do my thing," he says.
Chiloba easily betrays his disdain for the very politicians he's responsible for churning out. He says their short-term interests on things fouls his long term outlook of life.
He's circumspect of their lot.
His friends think the man is brutally honest to a fault. Some colleagues think he's arrogant and bullish. Others think he's controlling and distrustful of others. "He's insensitive and does not consider advice.
There's a tinge of false pride in him and he appears mesmerised by the system. He tends to open up more to system-friendly people but is more guarded with non-system guys," a colleague told me.
His friend and co-Adventist David Osiany attests to the "firm, forthright and truthful" character of his best man. Pictures of his wedding have been swirling around social media since last week when "Chilobae craze" swept over ladies.
"The Ezra I have known for years is a gentleman, a truth-teller, ideologically firm and a solid character. There are Christians and then Christians. Ezra is a Christian, one who has lived by the Bible. He's never been a phony character. I would spiral into untold depression if I were to find that he has a double personality," Osiany told me.
Osiany agrees to Shakespeare's famous proclamation that angels are still bright although the brightest of them (Lucifer) fell. These things happen, he tells me, and reiterates he would fall ill over it.
"While I am looking forward to the petition to bring out the truth, for me and Ezra, it goes beyond the judicial process. When all this is over, I would still want to look him in the eye and ask him what went wrong and what role, if any, did he play," says Osiany, a budding ODM operative.
As to perceptions of Chiloba's acclaimed arrogance, Osiany points to the thin line between the vice and the virtue of forthrightness: "I think its lack of political correctness that sells him out as arrogant.
The Ezra I know does not sugar coat stuff or remodel it to appeal to personalities or situations. He's certainly not arrogant."
To sum up his overall impression of the man, Osiany ponders for long on phone and blurts it out rather tersely after a long effort: "He's that guy, Ezra is that guy."
For Chiloba's other acquaintance Alfred Ng'ang'a, the mark of confidence in the IEBC CEO's demeanour is what people confuse for arrogance. It's also a survival trait, an aspect of struggle for acceptance amongst top CEO's of his age as they claim their spaces in high public offices.
 "Look at it from the perspective of successful ladies. They start off from a weaker point of having to command the respect of the people around them, especially men. In the process, these sorts of impressions can be created.
And so it is with young men in high public offices. If he was not lean, did not have boyish looks and was heavy set like some of his colleagues, people wouldn't be saying these things or taking note of them," Ng'ang'a says.
Strict Adventist
He's convinced that Chiloba did not and would not be involved in any covert plan to rig elections. He says the man he knows guards his credibility with his life because of his ambitions and sense of purpose in life.
"I may not know him beyond my interactions with him, but this guy knows his sh*t. His dedication to duty is unparalleled and sets him apart from his peers. He doesn't spare effort to let you know that the nation comes first and doesn't suffer fools gladly," he says.
His colleagues at the university remember him as a strict Adventist, one who loved his guitar and country music.
 Those of the fairer gender regret that they missed out on his looks while his kind feel powered by his newfound acceptance and admiration. "A forthright and honest guy who fashioned country music and played the guitar, always known for his hearty laughter," his colleague at law school Morris Kimuli wrote.
"Though I am a little jealous, the fact that he is acclaimed to be handsome gives me hopes. With my missing tooth and long ears, I may be down but certainly not out," he quipped.
Lawyer Godfrey Musila recalled on Facebook and with nostalgia, the guitar strumming sessions in law school but chose to withhold his "views on manly beauty."
'Very aloof'
For all his commended physical endowments, Caroline Kamende says the man was "very aloof" in campus.
"It was always the guitar, and church," she says.
Chiloba says it's sad he no longer plays the instrument as public service has sapped his interests and hobbies. He says he's not very keen to strike political correctness at the expense of truth. The search for perfection in an imperfect world, he says, can take one in circles but one must push on.
"The law affords me the space I need to execute my tasks. There's too much space... I thank God we kept our eyes on the ball despite great odds. I believe we did a good job," he says with a slight chuckle.
Eager for a long holiday after two and half years of non-stop work, Chiloba says he's looking forward to the petition. He says it will afford the commission the chance to showcase what it did to execute a free and fair poll that has since been endorsed by observers.
"We don't believe we did anything wrong. We are not 100 per cent perfect either but that does not mean the election was not free and fair. We hope to do an audit when things have settled and through it, I hope, the country will be able to move on," he says.
As to the fear of being tossed out of the train after the election, Chiloba admits that he has lived his life at the commission one day at a time. It's not a job, he says. It's a service. He says he let go off better package and privileges at the UNDP and is only worried most of the legacy he would leave.
There are no family portraits in his office except a huge mural of his self and a chess board. A beautiful Egyptian memento depicting one of Egypt's youngest pharaohs, Tutankhamun, on his hunting missions in the deserts adorns his desk.
As we wound up the interview with off-the-record intrigues of his office, he stretched out and remarked: "That's why we are Adventists. We do abnormal things. That's why we go to church on Saturdays. God, as the old version of the Bible, King James Version, says, will recompense us."
A teetotaler but a notorious latte coffee guzzler, he dashed out for an early evening date with his young daughter as I sauntered from his office.