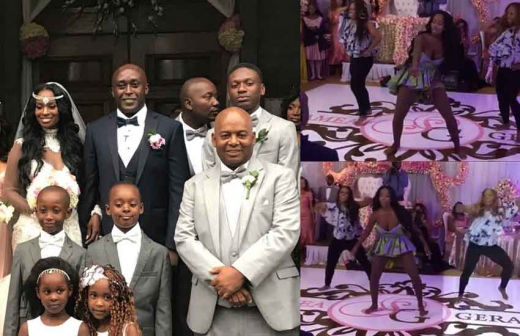 Kenyans can be unforgiving sometimes when they chose to.
This is what has supposedly befell The Real Housewives Of Atlanta (RHOA) star Shamea Morton after a video of her dancing wildly in merry at her wedding emerged.
In the video, Morton is seen dancing in quite an exceptional choreographed moves reverberating to the beats of Skelewu sang by Nigerian singer Davido.
Well, that is where the problem starts: Morton was getting married to a Kenyan man, Gerald Mwangi yet she was to a Nigerian tune.
Some questioned why she did not pay homage to her husband's roots by dancing to a Kenyan song while others took issue with her choice of dress.
The dress captivated the audience in awe as the electrifying dance went further and further in the rhythimic moves from the Hollywood star.
What is too short for a wedding party with the inlaws? Kenyans, mmmh.
The two wedded in Nyeri.
 Morton was born in Georgia and is the youngest of three girls. She stars in the chart topping The Real Housewives Of Atlanta while also working as the Atlanta Hawks in-game host.
Here are some of the comments on her IG page
mdgirldaa Just had to bring the ratchetness - we'll, to each its own.
Ruthymkenya This is sooooooo disgusting. It's an insult to the African and Kenyan culture. So ratchet. I feel sorry for her in-laws, the had to witness such contempt
[email protected]datiltedbrim the songs she was dancing to are majorly Nigerian not Kenyan so that not her husband's culture. Am not against her dancing though
ms_lucee The inlaws were like ''huyu ni nini anafanya''
[email protected] I'm watching this and can't believe my eyes .
megdalene95 @sharlyneromain haiya????????????
sharlyneromainWawawah hii ni funny @megdalene95
tatuliniCute ????. As an African though I must say the in laws may have a different view. Wish them the best ????????