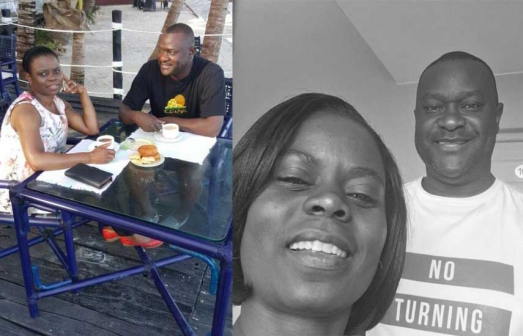 All indications pointed to perfect nuptials, the kind to grace your television screens during one of those popular wedding shows.
With only a month to go, everything was set. Blue and gold had unanimously been settled on as the theme colours.
The couple, George Makosala and Diana Akinyi, their families and friends were all looking forward to a great day. Invitation cards had already been sent out in readiness for the September 16 wedding day.
But in a shocking turn of events, the wedding will not happen.
And as Diana arrives from South Africa, where she works as a finance manager, she will not be embarking on the final preparations of her big day. Instead, she will be looking for updates on arrangements to bury her fiance, who died from suspected food poisoning on Friday.
Mr Makosala was found dead in his house along Mbagathi Road in Nairobi.
Trade expo
His friends, who he had joined for a trade expo at the Kenyatta International Convention Centre (KICC) in Nairobi on Wednesday, said he was upbeat ahead of the wedding.
He had just returned from meeting Diana in South Africa.
It appears that his problem began at KICC, where it is said that he started complaining that his stomach felt "funny" after eating samosas.
On Thursday, however, he seemed fine and even went to do what he loved — sing in the choir — at Don Bosco Church in Upper Hill.
Many of his friends were also in church at the time. Little did they know they were seeing him for the last time.
Branice Mayienga captured it all in her Facebook post: "George Makosala... my fren... we sat together on Wednesday at the Kenya Trade Show at KICC and laughed and later had lunch only to hear you are gone... a case of food poisoning... I am so so angry... Rest in peace," she wrote.
His fiancee said: "We talked about the wedding plans and finalising other issues. We even had premarital classes and counselling here."
The two had dated for two years and were planning to move to South Africa after the wedding.
No one knows the exact time 42-year-old Makosala died. But his family and neighbours tell of what must have been painful final moments.
It appeared as if he was in severe pain before his death, if the tears found on his face were anything to go by.
"He must have died a painful death," said Mary Otieno, his sister. She said Makosala was found dead with one hand on his chest.
A neighbour said he called her complaining of a stomachache and asked for painkillers. He told her to pass him the drugs through the window.
"About 20 minutes later, he came up to my window to pick the painkillers and asked me to keep checking on him. He appeared worn out. I passed him the drugs and went back to sleep," the neighbour said.
"While I was at work at around 2pm on Friday, I remembered I had not checked on him. I called another neighbour and asked her to find out how George was doing," the neighbour said.
The second neighbour realised Makosala's door was open and called the guard and asked him to check if he was inside the house.
Door open
"The door was open and so they just walked in. The table had been pushed. A glass that appeared to have fallen from the table was on the floor, broken. Books and photos were scattered all over the place," said Martin Muiruri, the caretaker.
"That is when I saw him lying on the floor in the corridor next to the toilet. We went close and realised it was George. We tried calling him and tapping him but there was no response. I realised he was not breathing when I moved closer."
Mr Muiruri reported the matter at Lang'ata Police Station and police called Makosala's sister Millicent.
His other sister, Florence Otieno, the youngest of six children, described her brother as a straightforward man.
"He had paid part of the bride price to Diana's family and was making plans to make the last payment," she said.
A postmortem was inconclusive and the family is waiting for more findings from the Government Chemist.
Related Topics