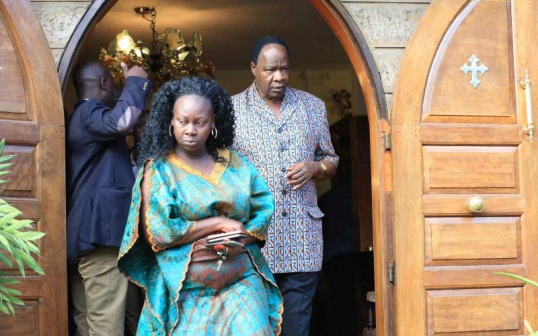 The past two weeks have been eerie. First was the news of G.G. Kariuki's passing on.
Then, like a plucked leaf, Gen Joseph Nkaissery dropped dead. Before we could wrap our heads around the losses, the 'Total Man' Nicholas Biwott took a bow and Amb.Bethwel Kiplagat followed.
The four successive deaths got me wondering about life.
How transient! How fleeting! A verse from the Bible in Job 14:5 came to mind: A person's days are determined; You (God) have decreed the number of his months and have set limits he cannot exceed.
Power men
These past two weeks Lee Funeral Home has hosted three men who were among the most powerful in the Moi era, and one who was in Uhuru's government.
You see, the wealthy tend to confine themselves to exclusive clubs. Lee would easily be considered a continuum of that exclusivity even in death, for only the haves keep their beloved in that high-end parlour. This past week power, wealth, history and influence have converged at Lee.
I have thought to myself since their demise just what it would be like if Lee Funeral Home could speak. Since 1984, the premier funeral home has held the mighty and great in its eldritch hug as they bade the world goodbye.
Named after its founder and Director John Lee, this morgue has witnessed the wealthiest leave behind multi-million bank accounts; the powerful lie powerless in death; the influential unable to utter a word; and the proud humbled by the frozen silence of lifelessness.
Silent witness
Such is death. It is so final! It casually stomps in through our doors without warning. It doesn't knock and doesn't regard status. Death takes a seat among the wealthy and the lowly as it deems fit. It plucks our best and worst alike.
One of these fine days though, I want to speak to John Lee, the proprietor of the funeral parlour.
I want him to narrate to me the experience of my humorous friend Gerald Otieno Kajwang' lying in death unable to cheer us with his baritone.
I want him to narrate just how it felt to have Jaramogi Oginga Odinga's wisdom, Kijana Wamalwa's eloquence, Hezekiah Oyugi's power, JJ Kamotho's orature, Wangari Maathai's passion, Kipkalya Kones' charisma, Martin Shikuku's wit, Lucy Kibaki's egotism, and Sen Mutula Kilonzo's intelligence.