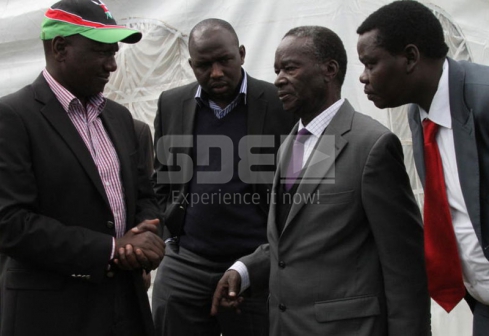 Former Cabinet Minister Nicholas Biwott left mourners in stitches when he chided Deputy President William Ruto to stop meddling in grassroots politics as the August 8 elections drew near.
Speaking at the burial ceremony of the late Mark Too in January, the self-proclaimed Total Man, armed with his political outfit – The National Vision Party of Kenya – seemed to fight for political survival.
"Avoid this ukora ndogo ndogo (trivial antics). You are up there, what do you want with the election of governors? Or MPs? Don't pay any attention. As long as the President is here and the bishops are here to pray for us, what is the problem?" posed Biwott.
The once powerful Rift Valley leader seemed to be negotiating political space to allow his outfit compete favourably in the region amid stiff competition.
In his less-than-four-minutes speech that marked his last major public appearance, he left mourners laughing.
"DP you know what Kalenjins want. They want peace and leadership. And once they install someone, they fully support. The way they installed (president) Moi and supported him to the end, they will support you too," Biwott said.
To the once powerful man in the Moi era regime, this was a passionate plea for political survival and especially to his political party formed in 2008.
To seal his plea, he assured President Uhuru Kenyatta of full support in the region.
Loaded statements
"I have done a survey and no one has problems with you. And the Deputy President and you are one. So there is no problem. It's only you to unite Kenyans," he said.
The loaded statements, though providing comic relief to the mourners, bore the firmness laced with political undertones that marked Biwott's public life.
And even in old age, he never feared to speak his mind. He teased Leader of Majority Aden Duale over the tribulations he faced back in his Garissa Town constituency.
Winding up his speech, Biwott said: "Pole Duale nasikia umelemewa." (Sorry Duale, I'm told you are overwhelmed).
Duale was under pressure over some alleged unpalatable comments he made as former National Assembly Speaker Farah Maalim mounted campaigns to unseat him.
Though he contested the Elgeyo Marakwet Senate seat and lost to Kipchumba Murkomen, Biwott's name has never disappeared from public political discourse.
During President Mwai Kibaki's coalition government, the former Keiyo South MP urged his followers to support the leaders to deliver their promises to Kenyans.
In 2012, Biwott announced his party would form alliances with like-minded parties ahead of the 2013 elections.
Building his outfit and readying for elections, Biwott received several defectors from the Alliance Party of Kenya and Party of National Unity (PNU). [Augustine Oduor]