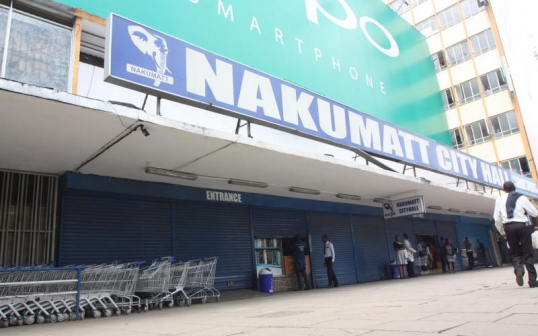 A consignment of canned beef from Britain arrived at the port of Mombasa aboard the MV Anna Maria in September 1996.
The beef, imported by one of Kenya's most successful home-grown retail chains, Nakumatt Holdings, was declared to have been contaminated with mad cow disease. Mad cow disease is linked to some fatal brain disorder, which was a major scare at the time.
Events that followed would see Nakumatt survive its first attempt to shut it down. Hours after the consignment arrived, the then medical officer of health at the Coast, SK Shariff, who tested the beef for the mad cow disease, faxed Nakumatt. The fax, written at 9.30am on September 18, 1996, was straight to the point.
The retailer had 28 days to remove the contentious 3.2 tonnes of beef and pork from Kenya. The meat was not just said to be contaminated, it was imported without clearance. The import documents showed the beef was shipped from Brazil but a closer scrutiny revealed that it was from Britain.
At the time it was imported, the world was scared of British beef which saw an export ban imposed to control the spread of the dangerous disease.
Kenyan government officials did not want to take any risk. Five hours after the fax, then chief licensing officer in the ministry of Commerce and Industry, Ms Helen Kenani, personally walked to Nakumatt's head office and ordered that all branches of the retailer be closed immediately. Police were immediately dispatched to its stores to enforce the order. Its trading permit was also withdrawn.
But Nakumatt held its ground and maintained that the mad cow disease was mere propaganda and the main aim was to shut it down. It also claimed that it had been targeted by various individuals in government and had already been a victim of a Sh50 million extortion attempt and blackmail as 'protection fees'.
It took a week of public debate and behind the scenes lobbying to have the Government reverse its decision revoking the trading licence of Nakumatt Holdings Limited, the mother company of the Nakumatt chain of supermarkets. After the shutdown, the retailer had terminated services of all its employees. The damage had already been done.
But shortly after it opened its doors again, a bigger battle came calling. This time it was the taxman. Few businesses fought the taxman at the time and came out alive to tell the story. The Kenya Revenue Authority (KRA) had moved to court and received orders to freeze the retailer's bank accounts, throwing it into an operational nightmare.
Remain afloat
KRA claimed that Nakumatt owed it Sh300 million in unremitted Value Added Tax (VAT). At that time, Sh300 million was no small amount. As if this was not tough enough, KRA landed on new information that made it to continue revising the tax claim upwards. In one month, the claim had moved from Sh300 million to Sh400 million and then to Sh671.7 million.
Nakumatt fought the new figures fiercely arguing that they were arrived at using wrong computations. At this time, Uchumi was the biggest supermarket and had paid a tax of Sh156 million. Another visible retail chain was Jack and Jill whose tax due was slightly under a million Kenya shillings. To survive the onslaught, Nakumatt launched a brave protest against the taxman saying that 'it would seem that KRA's intention was not to collect taxes but to close down its business.'
Nakumatt offered to pay Sh3.5 million per week as it sought relevant documents to contest KRA's claim but the taxman demanded a steep Sh100 million as deposit. It was unable to raise the amount. That is why its accounts were frozen. It would not be the only battle the supermarket would fight in courts and outside to remain afloat and grow from a small firm in Nakuru into a regional retail giant collecting billions of shillings a year.
Its success made it the envy of its rivals, and turned State-backed Uchumi Supermarket into a laughing stock after it turned to the government twice to rescue it from collapse. The toughest fights for Nakumatt's survival were waged in the late 90's when it survived at least two attempts to shut it down completely.
Another significant fight happened in 2000. At that time, Nakumatt was dragged to court by Investments & Mortgages (I&M) Bank over a breach of Sh180 million corporate guarantee. The lender was seeking to recover in excess of Sh100 million that had been outstanding since 1998. These fights only made it brave.
However, today the retailer is in unfamiliar territory. It is fighting a new battle, the type that has sunk many supermarkets including its main rival Uchumi Supermarket.
So similar is its downfall to that of Uchumi that stocked shelves with popcorn. Nakumatt shelves are now thinly stocked with blue label products. The two retailers have not paid their employees and have sent most of their staff home. Also, both retailers have not paid rent in some of their outlets and are facing litigation as a result.
It is reported that both have approached the Government for backing and only the goodwill of the Trade ministry is keeping suppliers from tearing their establishments apart. A retailer can fight almost anyone and survive but very few have won a battle with angry suppliers.
For a supermarket which prided in marketing itself as the only retailer that had everything on its shelves through the 'You need it, we've got it' slogan,' it's increasing empty shelves and disappearance of major brands such as Unilever's has set it up for tough times ahead.
Despite putting up a brave face on the outside, the retailer has been chipping away piece by piece in a fight of survival described by employees as a 'painful and slow death.'
The retailer admitted it is in trouble. "Nakumatt has had some liquidity challenges which have had a knock-on effect with meeting some of our liabilities. However, we are pleased to advise that we are working with a strategic advisory firm, KPMG to refine our corporate restructuring plan," Mr Andrew Dixon, the firm's chief marketing officer said in an interview.
The first signs of trouble were spotted in February last year after its debt to suppliers more than tripled to hit Sh15 billion from Sh4.7 billion in 2012 to an estimated Sh18 billion currently. And South African ratings agency Global Credit Ratings recently downgraded the retail chain's credit risk profile to 'watch list' as it struggled to pay suppliers.
Exactly a year later, it shut down its Ronald Ngala branch in Nairobi. Though it blamed low sales from the branch, its delays in paying suppliers had led to a perpetual stock outs in several outlets in the CBD. The retail chain silently pulled out its biggest branch in town, Nakumatt Lifestyle from the 24-hour service. It has also shut down the Haile Selassie Branch located at the Kenyatta University Plaza, and handed back to the university, which is the landlord.
The firm also shut down one of two warehouses located on Mombasa Road, where it stores imported goods as well as furniture and electronics. It is also having similar problems in its regional branches. Since the year began, the firm has closed some stores in Uganda. This aggrieved its suppliers and landlords who have sued it for non-payment of Sh515 million.
But its troubles hit a new low last month after it started delaying salaries for employees who were already under pressure to explain to an increasingly dissatisfied clientele over the lack of critical supplies due to mounting debts. Unilever cut supplies of all its products including Blue Band margarine, Omo washing powder, Vaseline petroleum jelly, soaps such as Lifebuoy, Geisha, Rexona and Sunlight, citing non-payment of dues.
Both firms have declined to respond to media inquiries on how much is owed. The Association of Kenya Suppliers Chairman Kimani Rugendo had not returned our calls on this subject by the time of going to press. Other big suppliers who have either cut down or stopped supplies include East African Breweries, and a host of some fast moving fresh produces suppliers.
However, a survey by the Ministry of Trade that sampled 22 suppliers and 37 manufacturers showed that Nakumatt owes the biggest share of defaulted debts among supermarkets. The retailer, which has been on an expansion binge that saw it hit 64 stores across the region owes the polled suppliers Sh136 million and the manufacturers Sh552 million.
The firm currently employs 5,699 staff in Kenya but it has been forced to send home some on compulsory leave as it looks for ways of cutting down on costs. The company said it was experiencing 'an acute business slowdown.' "Due to an acute business slowdown, we have been forced to send 106 warehouse staff members on leave, as we hope for the situation to normalise. With slightly improved workflow, we have recalled 32 of the 106 staff members and hope to progressively recall the rest in coming days. At the Warehouse our total complement is 600 warehouse staff," the firm added.
The firm has also frozen recruitment of new staff. The firm told Weekend Business that it has hired audit firm KPMG to help restructure its business in a bid to come out of the liquidity crunch. The restructuring of the firm would involve bringing on board a new investor.
The firm, which declined to give how much it owes its suppliers, said it is 'actively working with its suppliers in the development of a practical payment plan.' It is understood that the firm may also be considering turning to the government to help it secure a bailout.
It did not deny or confirm this development. "Our options are currently open subject to the negotiation of mutually agreed terms between ourselves and any financier; Private or public. Suffice it to say that we are working on multiple options/fronts for the best benefit of the company in the long run," Dixon said.
Highly leveraged
It, however, maintained that talks with the external investor are still ongoing and dismissed allegations that the external investor had pulled out after seeing the hole that the company was looking to fill.
The retailer is, however, putting up a brave face since the windfall of the Sh7.7 billion deal has been delayed and slowed operations are hurting its cash flows. Nakumatt expected to pocket Sh4.1 billion by the end of March but has now been shackled by the delayed disbursements. It was to get Sh3.6 billion balance by June this year to complete the purchase of 25 per cent of its stake.
It did not reveal how much it needs to remain afloat only offering that it is 'seeking a substantial amount to fund operating and capital expenditures. But available information suggests that the retail chain was looking at disposing off a 25 per cent stake for approximately Sh7.5 billion to some unnamed private equity fund.
Nakumatt has in recent years been on a debt-funded acquisition spree, which saw the chain take up space in multiple new malls, but chalked up financing costs and hampered free cash flow. This saw Nakumatt's gross debt more than quadruple in as many years to Sh18 billion in the half year to August 2016, from Sh4.2 billion in 2011.
"Growth of the business has been highly leveraged, with the ever-growing working capital and capex requirements having been largely funded through short term debt," said ratings agency GCR that downgraded Nakumatt long-term rating to BB- (KE) in December 2016 from BB (KE).
The firm seems to have been caught in the same position Uchumi was found in several years ago which almost saw suppliers mortgage the firm. But unlike Uchumi, which enjoys some government backing, the retail chain will have to find private solutions to its problems. The firm has also been tight lipped on its current crisis, choosing to suffer in silence.
Its strategy to remain up market despite increasing competition may also have contributed to its cash crunch. Nakumatt gross sales grew to Sh51.6 billion for the fiscal period ended February 2015 compared to Sh48 billion a year earlier. But surging finance costs have eaten into Nakumatt's earnings, with gross profit dropping to Sh305 million as at February 2015. Events of the next few weeks will determine which direction Kenya's biggest retailer goes.
Do you have any feedback on this story, write to [email protected]