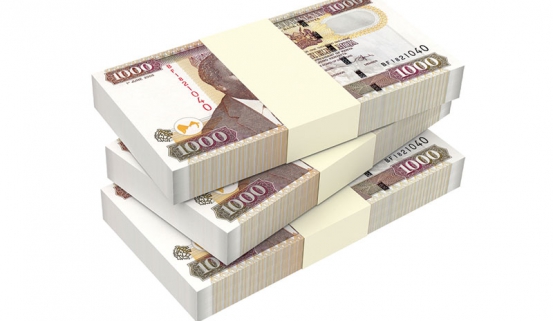 An alert has been raised against a woman who has raised millions of shillings by claiming she is suffering from multiple types of cancers.
The woman claims to have cancer of the liver, blood and spleen, and is said to have raised up to Sh18 million from social media crowd-funding.
A group of well wishers who helped raise the money now want the woman investigated for fraud.
Investigations by The Standard have found that the 'patient', Betty Emmy, used an alias, and that her mobile phone number was registered in the name of one Beatrice Emmy Ochieng.
Betty has proclaimed herself a 'cancer warrior' and even put up  posters on Facebook to this effect. That social media account has since been shut down.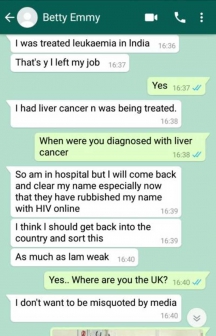 When this writer first tried to establish contact with Betty, she was unreachable. But she later responded to Whatsapp messages and even posted a photo of herself lying in an ICU bed in an undisclosed hospital, which she claimed was in Britain.
Emotional blackmail
Betty's story broke when she asked for assistance from the wife of a governor. It now turns out that most of the  people who responded to her plea for help are having trouble believing her story and accusing her of emotional blackmail.
In one of the posters seeking funds through M-Pesa money transfer, Betty says she was diagnosed with stage four primary liver cancer and stage three secondary lung cancer, which she recovered from.
However, according to the posts, her illness took a turn for the worse and she is "now undergoing treatment in London and has since gone into remission".
"I experienced a recurrence of secondary gastric cancer stage four and chronic lymphocytic leukaemia stage three (brain metastasis) and I am currently battling one primary cancer and three secondary cancers. Please help Betty continue with her treatment in London," reads the poster.
Eddah's Hope Cancer Foundation, an organisation Betty associated herself with as a cancer warrior, have since distanced themselves from her.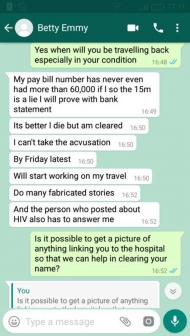 According to Juliah Muriuki, who helped Betty during her medical trials and tribulations, said Betty's case might be one of fraud.
"It seems like the story was just a story to raise money," she said.
Ms Muriuki said when she first met Betty last October, she told her that she had leukaemia, kidney failure and spleen damage, and that treatment cost her Sh273 million.
Muriuki said she organised an event at Kenyatta National Hospital to celebrate her birthday with cancer patients and that Betty showed up.
"This girl stole the show. She repeated her story to everyone who cared to listen and after the event she started asking for cash from the group," says Muriuki.
Muriuki said Betty used her "Friends on a Mission" WhatsApp group to solicit for funds.
"She asked us to help her raise Sh40,000 for monthly reviews but we started having differences because our group was not solely formed to assist her," said Muriuki.
But that was not the end. According to Muriuki, through public pledges the group raised Sh18 million for Betty, who by then claimed to be suffering from liver cancer, to seek treatment in the UK.
Raised millions
Betty was scheduled to travel to London's Royal Free Hospital in Hampstead for treatment. At one point, she posted pictures she said were taken from the hospital.
Last Tuesday, Muriuki tried in vain to video-call Betty via WhatsApp. But she was back online later asking for more money.
"She reached out to us seeking Sh12 million. When we demanded pictures from her she got really upset and even refunded Sh5,500," said Muriuki.
Yesterday, Betty confirmed she had refunded the money and explained that she had some differences with Muriuki.
"My paybill has never even had Sh60,000. So the Sh15 million is a lie. I will prove it with bank statements," she wrote.
She said she would be returning to the country to face her accusers, adding that a lot of untruths had been told about her.
When asked which hospital she was in and the identity of doctors treating her, Betty declined to answer.
"I want to come and clear my name," she said.
A call to the UK hospital confirmed that there was no patient matching Betty's details.
"I have already confirmed this to you. We have no such patient," said an official who answered our calls.
A member of a family that had taken Betty in after her treatment said they had reported the matter at Ruaraka Police Station, where it is listed under OB number 39/17/06/2017.
"I share the pain and feel what people are feeling. The family feels duped," said a family member.