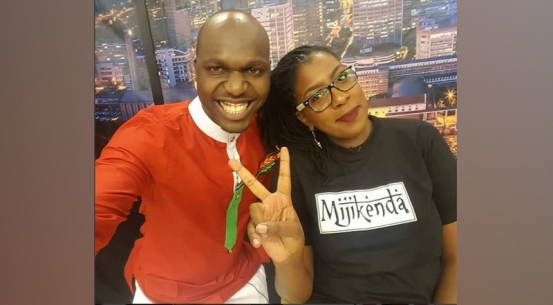 There has been a rumour doing rounds that Larry Madowo and his The Trend panellist Ciru Muriuki are an item.
Despite the claims hitting rooftops, the pair kept cool with neither of them confirming or denying the claims.
Well, Ciru Muruiki finally decided to address the rumours. She uploaded a photo of her and another guy sharing in intimacy in what looked like a joint. The picture did not show much about the guy and people were quick to make assumptions that he was Larry.
A post shared by Ciru ? (@cirumuriuki) on
After realising that she increased the swirl of the rumour mill, she decided to come clean and clear the air putting an end to the speculations surrounding the rumour of her dating Larry.
She then uploaded a clearer photo of her with her man and she captioned it:
"OK guys. Everyone chill. This here is bae..who looks NOTHING like @larrymadowo. Now can we all just calm down?"