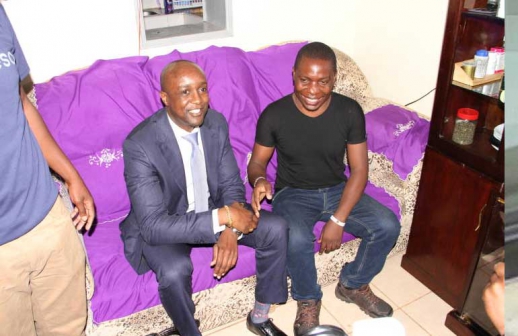 Samuel Abisai, the newest millionaire in Kenya, is still in shock.
The 28-year-old vendor of Chinese merchandise from Roysambu officially joined Kenya's club of millionaires yesterday after winning SportPesa's mind-boggling Sh221 million jackpot - the biggest win in Kenya's sport betting history.
By yesterday, the news that Mr Abisai, who until yesterday shared a two-bedroom apartment with his brother, had won the jackpot had not sunk in.
Asked how he intended to spend the windfall, Abisai shrugged, laughed deliriously, and declared that he had no idea.
"I do not know. I still need some time to get used to the idea that I have won. It feels like a dream," he said.
Spending millions
With Sh221 million, Abisai can comfortably blow away Sh2.7 million a year or Sh231,000 a month for 100 years with some change to spare.
After he had calmed down, the young millionaire said he would use part of the money to fulfil a childhood fantasy.
"My brothers and I played football and my elder brother, who has been a football coach, has always wanted to start an academy of sorts. Now that we have the money there is no excuse for not starting one," he said.
But before then, he intends to take a break from his small-time trader work and go on a long, well deserved vacation.
From his small crowded sitting room, Abisai explained how his fortunes changed overnight.
"I used Sh100 to place the first bet on Saturday. I did not win anything but I did not give up. I used another Sh100 to place more bets with the help of my friends," he said.
After spending Sh200, he was pleasantly surprised when he learnt that he had indeed hit the mega jackpot after predicting all the 17 soccer matches correctly.
He realised that something monumental was in the offing as soon as the French top-flight Ligue 1 clash between Dijon FCO at home and Bordeaux ended in a 0-0 draw, as he had predicted.
Abisai, who was now assured of a big windfall, left home to join his best friend at a joint in Kahawa West, Nairobi, before the last two games of the week's jackpot — the North London derby pitting Tottenham Hotspur against Arsenal and the Italian Serie A clash between Inter Milan and Napoli — were played.
No DSTV
"I do not have DSTV, so I watched the game with my friends and when I found out that I had predicted the 15th game correctly I asked my sister to pray for me but it was not until I received a call from the SportPesa CEO that I knew just how big I had scored," he said.
The  call from Sportpesa CEO Ronald Karauri a few minutes past midnight on Sunday changed his life.
"When Karauri called me in the middle of the night I was so happy. I was outside a petrol station jumping up and down. Some boda boda operators who were nearby stared at me, wondering what was wrong with me," he said.
He then switched off his phone and only shared the good news with his family and a small circle of friends.
The Mandarin-speaking young man from Kakamega who opted for a bachelor's degree in Chinese instead of the economics course he had qualified for has now become a national celebrity.
Hordes of journalists trooped to his humble abode to interview him.
His home estate, Roysambu, saw a procession of luxury cars,  among  them white stretch limousines, a Chrysler, and a Range Rover ,which almost brought business along Thika Road Mall (TRM) Drive to a halt.
The procession snaked from Thika Road to the Carnivore restaurant off Lang'ata Road, where the new millionaire was garlanded and feted.
It was at this classy hotel that Abisai received the cheque. Abisai says he had only placed bets four times before and won Sh30,000.
As for his idea of starting a soccer academy, his elder brother, Jack Abisai, says he is not surprised. 
Jack, a sports science lecturer at Kenyatta University, says the entire family has always loved football and that his siblings had always looked up to the game as a way out of poverty, which did not please their poor parents.
"Both my parents sell ropes for tethering cows and goats in Kakamega and they were keen on ensuring that we focused on anything but sports since they believed that it would not lead us very far," he said.
Jack, who lives in a two-bedroom house in TRM Drive with Abisai, now laughs at the irony of it all as sport betting is now set to change their lives forever.
According to the SportPesa boss, Abisai will receive professional advice on how to spend his newfound riches. 
Besides being a millionaire, the Sportspesa boss reckons that Abisai won the biggest jackpot in Africa's gaming history
"He is taking home the full amount because tax on betting wins has not been implemented yet. We will also assist him with an adviser to ensure that even the people back in Kakamega benefit," said Karauri.
Besides Abisai's big win, 24-year-old Ahmed Ali also pocketed Sh41 million for making bonus match result predictions.
An elated Ali, who has just come back to the country after 10 months in Qatar, said he had big plans for the money. "I just do not have the intricate details on how and what to do but I have so many plans in mind," he said.