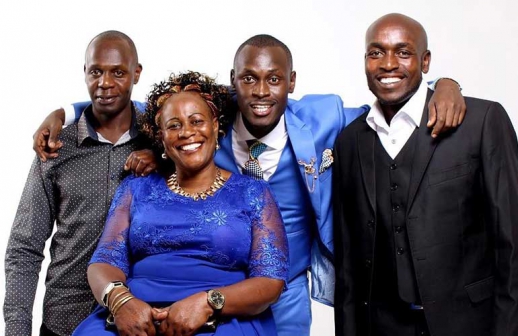 Thank God no situation is permanent. Experiencing challenges during his younger years, King Kaka revealed how real the struggle was after he was once arrested by city council for standing in place of his mother, a fruit seller then. In celebration of her birthday the rapper wrote a long message to his beautiful mother alongside a photo of his family.
''So my mom's birthday is Kesho 26th April, I asked her how old she was turning, ati 50 something, ati ladies never reveal. Anyway wacha tunacheka hapo, it wasn't all smiles when we were growing up, that's Deno with the dark coat 2nd born and that's Calvo the 1st born and me the last born.
 Today I woke up and remembered an incident, my mom alikuwa anauza fruits Enterprise rd in industrial area and just after high school nilikuwa Naenda kumsaidia, so morning hours as she would go to the market , I would go to open her fruit stand. So a particular Thursday I had college exams in the noon and I had just opened the stand, and minutes before my mom arrived, Kanjo arrested me, and took me to their car.
So mom arrived akaambiwa your son ako kwa gari ya kanjo and she knew my paper was in an hour's time. She came to the car and told Kanjo waniwachilie wamshike instead since I had a paper. I felt really bad that they would even consider arresting her, it was either they arrested her or I miss the paper. I was willing to miss the paper but not see my mom arrested, a few minutes later I was released but I said I am not going without my mother.
Long story short, my mom made sure we got what we deserved, she is a strong believer in education. She struggled so that we could laugh today and we make sure she laughs daily. The Love is out of this world. Help me wish My Mom, Elizabeth, Queen Elizabeth the Legend herself a Happy Birthday.'' He wrote.
In appreciation of all she has done for them, the rapper surprised his mother by buying her a dress then flying her down to the Coast where they celebrated her birthday.