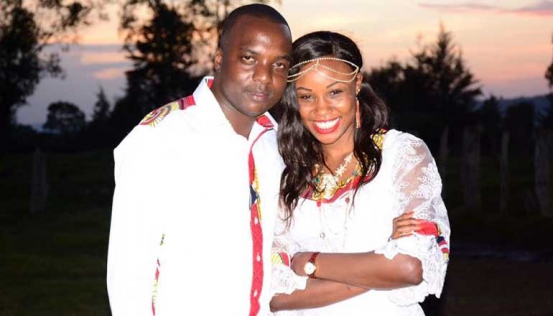 Gorgeous track star Mercy Cherono has seen the light – the divine kind - if a YouTube clip showing renowned Nigerian televangelist TB Joshua exorcising evil spirits from the newly wed lass is to be believed.
Recounting to a stunned congregation at The Synagogue Church Of All Nations in Lagos, Nigeria, how her sweat has often ended in unexplained injuries before major championships, Cherono took the bold decision to turn to God for deliverance.
In what appears a script inspired by St Francis of Assisi's saying, "Start by doing what is necessary; then do what is possible; and suddenly you are doing the impossible," Cherono hopes to reboot her career she describes to have stagnated ever since she won 2014 Commonwealth Games 5000m gold.
"Before I came to the church, my husband asked me to seek deliverance because I used to train well but before the race, I would get an injury. I used to take strong painkillers to sustain me during competition. But after the competition the pain would worsen," Cherono says in the YouTube video.
"Before the Olympics Games I had a stress fracture that I had not noticed until later. I kept it from my coach and went on taking the painkillers. I hid from my coach because I was afraid he would remove me from the team.
"After Rio, my coach took me to Italy where I was treated. It's been now three years and the same pattern repeats itself," the former world junior gold medallist says.
It was not immediately clear when the newly married beauty queen first went to Nigeria, but from manner of dressing in the video she was alone in the first two visits to the church. When she is finally joined by her husband Edmond Ng'etich, she is in a different attire, suggesting a third visit.
The photogenic athlete beauty confessed her marriage has been far from ideal despite being four months old only.
Cutting a humble demeanour and without her trademark braids replete with national flag colours, Cherono
A brief from the church published along with the YouTube Video says: "Today, Mercy and her husband confirmed the words of prophesy from Prophet T.B. Joshua, stating that even though their marriage was only four months old, the success of the marriage was threatened by anger, fighting and a premarital controversy."
But all that now is a thing of the past as the 25-year-old Cherono looks forward to a bright athletics career starting with World Championships this August and help put behind the disappointment of finishing fourth in the 5000m at the Rio Olympics where she clocked 14:42.89.