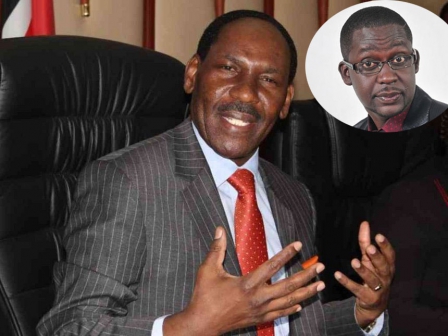 You do not have to be obscene to be popular, was Ezekiel Mutua's advice to the Churchill Show.
The popular comedy show was on Sunday night allegedly taken off air after only 25 minutes due to what has been described as inappropriate content.
But not before the 'insulting' content caught the eye of Kenya Film Classification Board(KFCB) boss, Ezekiel Mutua.
"A stupid idiotic prank on Churchill Show. An unfortunate idiotic and foul drill, totally in bad taste, lacking in imagination and possibly the evidence of the beginning of the end to an era...." he posted.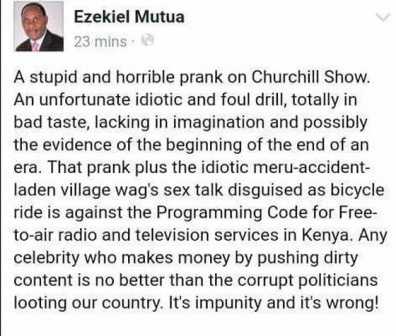 However, Daniel 'Churchill' Ndambuki claimed, through a Facebook post, that a technical hitch was the reason the show went off air.
"My apologies!!! The 3rd segment of the Churchill show could not air due some technical hitch."
This morning, Mutua seems to have softened his stance in his latest Facebook post. He revealed that Churchill had called him on Monday morning and had apologised about the unfortunate episode. Churchill also requested that Mutua pull down his earlier post, which he has done in good faith and in light of the mature manner that the comedy king has handled the matter.
The KFCB boss noted that while he accepted the apology on a personal level, the Board will still follow up on the matter to ensure that such mistakes are not repeated.
He closes his statement with reminding Churchill Show not to use its talent to corrupt the moral values of our children.
Here are some of the reactions from Kenyans:
Karimi Susan: Am glad Ndambuki has owned up and ready to take responsibility of last night because that, as you said earlier, was probably the beginning of the end of an era because as a parent I was also taking responsibility and saying no more Churchill show in my house. That prank was totally, totally, totally, out of order for a family show. This was just the climax of obscenity that has been creeping into the show slowly. Getting it off air was a good message to our children that such nonsense is not allowed in Kenya and it is wrong. Thank you Mutua for the quick action.
Moskam Moskam: Lately, watching Churchill show with my children has become embarrassing.
David Kariuki: Yaaaa I think Churchill has built talents and we should not use that single incident to vilify him. Only a fool doesn't learn from his mistakes. I wish Churchill all the best as he identify and develop talent
Rachael Njeri Wainaina: Thank you so much Sir. You are truly leading by example. I hope the Churchill show producers will be careful next time. I have a feeling that our country moral standard are coming back.
Smart Head: Honestly, the bicycle joke was a blunder and shameful to Churchill Show fraternity! I mean, how was I supposed to watch it in the presence of my mother and my wife's Dad in my house! Jana niliona siku mrefu! Thank you Mr Mutua. King'ang'i owes me a personal apology