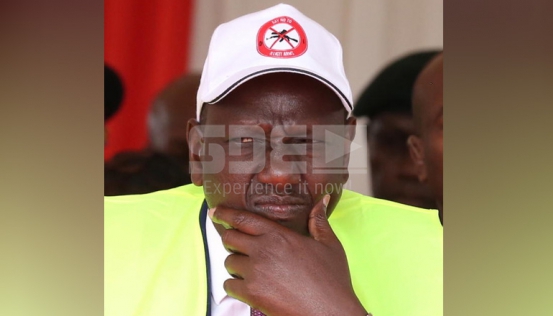 Deputy President William Ruto has been accused of not paying upkeep for the last three years for a child he fathered out of wedlock.
The allegation is contained in a case that was filed in the Nairobi Children's Court yesterday by a woman who claims the two had a relationship that resulted in the birth of a girl.
A 20-page court document filed by Gitobu Imanyara and Company Advocates, and seen by The Standard, reads that the DP last gave the woman Sh35,000 in 2013.
"After the defendant assumed the office of the Deputy President of the Republic of Kenya, he discontinued offering any form of monetary support to us, leaving us in abject poverty," the woman claimed.
But in a response to the matter through his official Twitter handle, Mr Ruto told unnamed persons to keep off: "My 11-year-old-child (name withheld) is well catered for including her education in a private boarding school. Politicians and busybodies should keep off."
The woman claimed she knew the DP in 2005, while attending Moi University. Ruto was then an MP for Eldoret North constituency.
"The defendant pursued me with various propositions for a romantic relationship, and owing to my gullibility as a young and naive person, I acquiesced to the advances," she said.
The relationship would result in the birth of a girl on March 6, 2006.
She alleged that the DP assured her of taking parental responsibility of the child, which he did until 2013. The help, she claimed, was satisfactory bearing his political status then.
The suit also read that the DP paid rent for the woman and the child until 2013.
The woman now claims she cannot cope with having to pay rent and a house help.
"I, together with the daughter I bore with the defendant, was forced to move out of the house the defendant was paying for and move into a smaller house in a cheaper estate," she claimed.
"I could no longer afford to pay the salary and upkeep, as well as the house help. It was at this point that I was compelled, out of necessity, to seek the counsel of my advocates, and whom I instructed to issue a demand and notice of intention to sue for child maintenance."
The woman claimed after the demand, Ruto sent Sh40,000 through an aide and went silent again.
"The defendant herein has been negligent in relation to the welfare of the minor herein as I have particularised in the plaint," the court papers read.
The woman is seeking Sh149,000 monthly to cater for the child's monthly needs. In addition, she is asking the court to force the DP to pay school fees.
Related Topics