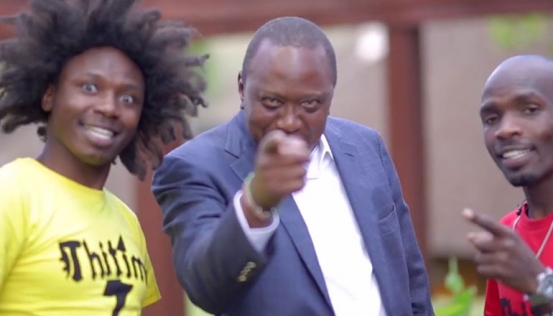 2017 is here! Being an election year, we will never run short of drama.
Politicians are having humble pie for breakfast while they criss cross the country; all this, to woo supporters.
With low voter registration turnout being reported across the country, Uhuru's team has taken it to a whole new level. The president has released a Thitima remix alongside Kymo and Stiga.
The video has since elicited mixed reactions from Kenyans:
Byrn OmondiRais wewe umechukua kura? Usije ukapigwa thitima....hehehehe
Jack Ndegwa Wilsherethitimaaa ukicheza utasikia thitimaa uuuuuuuuiiiiiiiii thitima,,,kura yangu niyako mzito
Lynda AgisuThis is so cool,nd coolest president we got,but kura yangu, I still say no to corruption, no to jobless, no strike,no to lack of healthcare.
Abiy Kassaye SamsonI don't understand what he said but I like this man
Sayid NureinIs the only president can socialist to people the only president can joke with people my God bless you Mr President. And we hope to see win again if God will
Kelvin LugayeAm Team NASA though I love the president's personality ... He he he