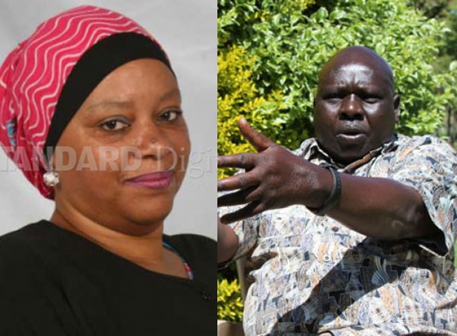 In death just as in life, controversy continued to stalk one of Kenya's most charismatic politicians, Mark Too, yesterday. Just a day after his lawyer, Simon Lilan, sensationally claimed in Eldoret that the politician had been murdered, a woman who claims she has a son with the deceased obtained court orders stopping the burial scheduled for Monday next week.
Fatuma Ramadhan Hassan, in an application certified urgent by the High Court in Nairobi, wants the remains of the politician, who died on New Year's Eve, to be preserved until her 16-year-old son is included in the funeral arrangements.
In Nairobi, the court directed that Ms Ramadhan's case would be heard tomorrow.
She has already obtained orders blocking Too's widows, Sophie and Mary, and Lee Funeral Home, from burying Too's remains pending the hearing and determination of the suit.
Ramadhan accused Too's widows of "deliberately and maliciously excluding her son from participating in his father's funeral arrangements".
Ramadhan claims Too was the undisputed biological father of her son, who therefore has a right to bury him.
She alleges that in view of the "likely tumultuous, psychological and mental torture" the minor may face, the court ought to make a finding in his favour.
The woman also wants the court to stop the distribution of Too's vast estate, and is demanding an immediate lump sum payment of the minor's school fees pending the hearing and determination of the suit.
In her application, Ramadhan claimed that on March 16, 1991, she was involved in a short sexual liaison with Too immediately after her separation from her husband, resulting in the birth of her son. She attached a copy of the boy's birth certificate in the court papers and is represented by lawyer Danson Omari.
"(Too) neglected his parental responsibilities and I was forced to file a child support case in 2011 in order to obtain court orders compelling him to discharge (them)," she said in the court papers.
Prior to Too's death, he had been catering for the boy's clothes, entertainment and school fees, she told Justice Muchelule.
She learnt of Too's death through the media, and persistent attempts to reach his relatives on behalf of her son had been unsuccessful, she said.