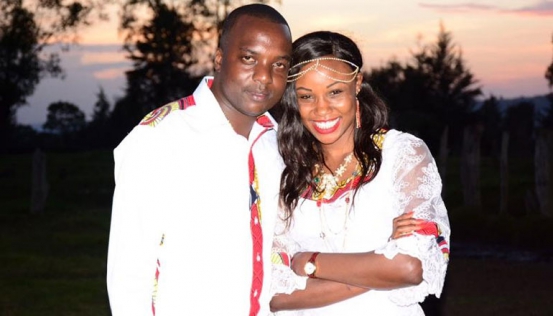 The fertile and in some instances yet rocky village of Kipajit village, Chemagel constituency, Sotik in Bomet County came alive when its most-famous daughter and star athlete, Mercy Cherono got formally engaged in a traditional ceremony that will for long linger in the collective memories of those who attended.
Cherono — a former 3000m junior champion and Commonwealth 5000m gold medallist — accepted the hand of US-educated Edmond Samoei as she moved one step towards saying bye to the single-ladies club during the koito, as the ceremony is called in her Kipsigis dialect.
The day December 17, 2016 was sunny as hundreds of invited guests from within and afar found their way to the homestead of her doting parents, John and Emily Koech who were preparing to give away their star daughter who has transformed their lives from penury to respectable members of the tight-knit community.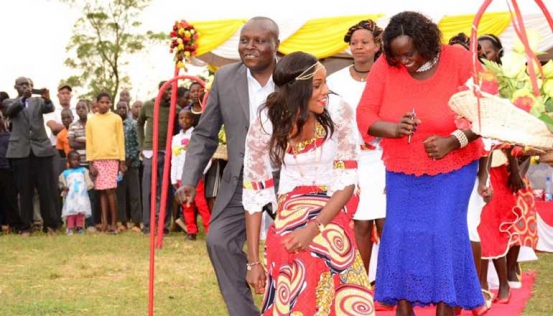 Gone were the small structures that could barely hold together. A smart bungalow complete with a designated parking bay for three vehicles announces the change in fortunes.
As guests served sumptuous fare on offer, Cherono and her bridal party were busy inside grooming themselves for the occasion— and what a party to have with two former 800m world champions, Janeth Jepkosgei (2007) and Eunice Sum (2013) as well as another former junior champion, Pauline Korikwiang by Cherono's side.
At around 12.30pm, the patient crowd that was waiting at the Kipajit Primary School grounds where Cherono started running got to their feet when a convoy of high-end vehicles drove into the athlete's homestead, a signal that the lucky groom had arrived.
Amid song, the bridal party, clad in flowing slim-fitting white silk dresses with red sashes, emerged and walked up to the designated point where Cherono, chauffeured in a Mercedes Benz arrived to join them.
Singing traditional Kipsigis engagement songs, the grooms' party advanced towards the beaming Cherono and her entourage as they formally requested her to accept the invitation to join their family.
Out came the smart phones clicking away with abandon as the people, among them athletics royalty, captured the moment in photos and film.
Having contracted a professional photo and video crew to cover the occasion, a drone fitted with a camera briefly stole the thunder from the dashing bride and her party as the crowd shifted attention to the contraption that was flying above them.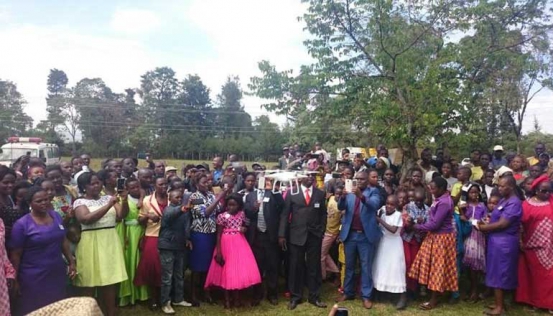 In no time, Cherono, who was dressed in a red floral flowing skirt with a white top and her aides were swallowed up in a frenzy of song and dance as she obliged to the request of those sent out by her beau.
It was a sight to behold as the famous world-beating athletes danced with merriment through the gazebo set up for the occasion, past the families of the bride and groom before sitting in the designated tent that faced two others where there were more guests.
Olympic champions, Eliud Kipchoge (men marathon) and Conseslus Kipruto (men 3000m steeplechase) led a slew of local athletics stars into witnessing one of their own take the formative step before the wedding.
Former world women 3000m steeplechase winner, Milcah Chemos, ex-Commonwealth champion, Augustine Choge as well as 2015 Chicago, Paris and Rome marathon titleholders, Dickson Chumba, Cyprian Kotut and Amos Kipruto were also present.
With pregnant clouds threatening to burst open, the Master of Ceremony rushed the programme with Cherono's father, John taking to the stage to offer his daughter away while presenting her with a Bible and diary to chronicle her matrimonial journey.
Acting Athletics Kenya Chief Executive, Susan Kamau was also among other key guests present.
The groom's father, Samoei who is a Member of County Assembly in Bomet and his spouse welcomed not only Cherono "but all the medals she has won to Sigowet and we look forward to seeing you win more gold medals for us and Kenya," the excited soon-to-be father-in-law gushed.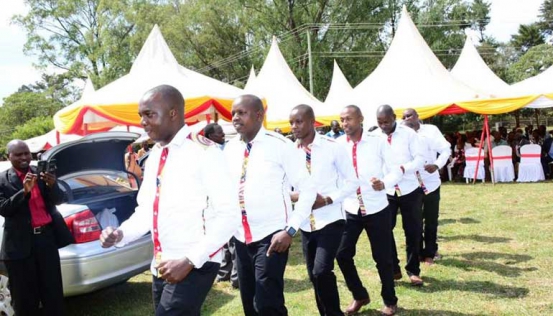 Speaking at the fete, Soin/Sigowet Member of Parliament Justice Kemei who is a brother to renowned athletics coach, Japheth Kemei, was equally enthusiastic in ushering the champion athlete and poster girl of Kenya's sport into his region.
"Mercy, we welcome you to a community that works hard. We are taking you from a community of athletes into another community of athletes. In Sigowet, we have famous runners such as Ferguson Rotich and Kipyegon Bett," the legislator added.
After the speeches, the ceremony went a notch higher when the groom presented the bride price and after he met the demands of the bride's family, he got the go-ahead to take her home with him as his wife.
Community elders were to convene a meeting later and sign an agreement that they witnessed a woman of their clan get married off before a colourful public ceremony to mark the union.
Following the Koito which is the crucial phase of the proceedings, it is accepted among the Kipsigis community that a couple lives together as husband and wife after the event as they plan for a church wedding.
The festivities were crowned with the cutting of the six-tier cake shaped as traditional gourd of milk which acted as the champagne was cocked to celebrate the union.
When news broke in mid-November that Cherono was off the market when her engagement ceremony was announced, social media went agog.
Mark Korir Mutai, the 2015 Paris and Frankfurt champion posted on Facebook; "Pongezi Mercy (Congratulations Mercy).
Suspended Athletics Kenya Eastern Branch Chairman, Joseph Kinyua added; "Congrats Mercy. May your new chapter be successful as your athletics career! We are proud of you, those of us that have inspired you during many athletics championships. "
Alex Sang, the husband to London Olympics 3000m steeplechase bronze medallist Chemos, said: "Bye bye singles club Mercy."