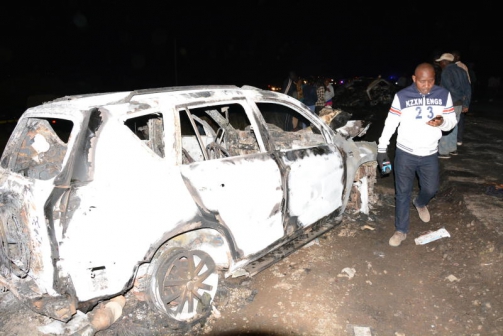 Kenyans have woken up to devastating news after 40 people were killed in a horrific tanker accident at Kinungi, Naivasha.
40 people are believed to have died in a horrific accident after a tanker carrying highly flammable chemical lost control and rammed into a number of cars among them a psv matatu carrying passengers. The tanker is said to have exploded on impact, causing a fireball that engulfed nearby cars.
The accident comes at a time when the doctors and nurses are on strike. Many have also questioned the presence of a tanker on the road at night contrary to regulations. Others asked why the tanker was using the route instead of the prescribed Mai-Mahiu road which is largely reserved for trailers.
Here are some of the reactions:  
Very sad to learn about tragic accident in Naivasha last night. Our sympathies to affected families and friends. Poleni sana ???? — Jane Jeptoo (@Jeptoo_Jane) December 11, 2016
As we type RIP, How did a tanker reach Naivasha? All tankers are supposed to divert to Mahimahiu route .. Lets drive responsibly

— NG'ANG'A THE BLOGGER (@ItsNjokiKelvin) December 11, 2016
Kindly whisper a prayer for the families that have lost loved ones at Naivasha. The death toll now stands at 40. God protect our roads pic.twitter.com/aXzFajLIh1 — Xtian Dela ™ (@xtiandela) December 11, 2016
My condolences to families who lost their loved ones on the Naivasha fire accident.corruption and greed has taken lives again.#for how long? — francis ngotho maina (@ngotho_wa) December 11, 2016
It's time to mourn with those mourning. Affected #Naivasha tragedy we are with you in prayers. — Ni Jehova (@karanjac) December 11, 2016