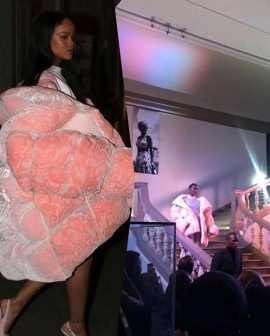 Likened to a duvet and a large pink candy floss, Rihanna is no stranger to edgy over the top fashion. Appearing in a pink puffer jacket created by upcoming designer Ella Boucht, the hot singer wore the statement piece over an expletive t-shirt to a private designer Marc Jacobs party after the Paris Fashion week held last month.
Turns out this pricey designer fur coat was among the pieces showcased at the creative nation's forum that ran for two days. The joint initiative between Swedish institute, Swedish embassy and the ministry of sports and culture brought together creative minds from both countries in different fields including fashion, technology and lifestyle.
But what stole the show was the puffer jacket model Laura Anjili wore that capped the event which was held last week.
''When Rihanna's very own Fashion Jacket flew to Nairobi only for the #CreativeNations Fashion Cocktail, thanks to Elin Frendberg the CEO of Swedish Fashion Council & our very own @sunnydolat And Yes! It's going back to her wardrobe,.'' Anyiko who was at the event posted.