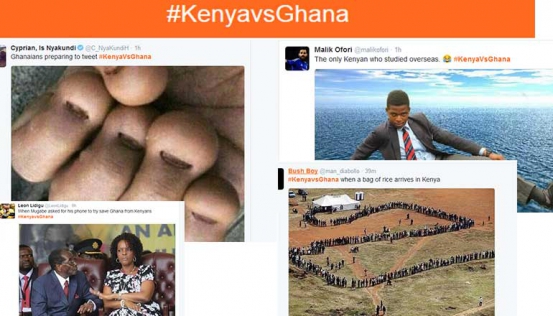 Twitter bigwig Cyprian Nyakundi must have been bored when he tweeted; "Just realized that we have never played with Ghana. Can Ghanaians beat Kenya #KenyaVsGhana. An online game of course".
That was in January 2014 to which Christian Dela replied with a playful "Naah".
All seemed to be settled until today, when the hashtag #KenyavsGhana started trending, following a prob by @iGitz_ asking 'who is ready for that match?' and quickly following it up with an, "I do not think we have enough Ghanaians on Twitter. I should just chill".
 That was when it started with the hashtag remaining at number one for most of the day. Unlike previous tweefs like #SomeoneTellNigeria which had tweeps from the respective countries throw tweets at each other, Ghanaians are hell bent on responding to every tweet sent by a Kenyan.
Do you think we rattled the wrong snake, or are we roasting the Ghanaians? You decide.
When Mugabe asked for his phone to try save Ghana from Kenyans #KenyavsGhanapic.twitter.com/VDLeg9Mh2T — Leon Lidigu (@LeonLidigu) September 13, 2016
Miss Kenya 2016 posing for the press ahead of her Press Conference #KenyavsGhanapic.twitter.com/I3G7g94uzi — Nick Fizzy (@nick_fizzyGH) September 13, 2016
Just reading tweets from #KenyavsGhana and this is what kenya is doing to #ghanapic.twitter.com/d4ETp4l05z — BOBBY TARANTINO (@Charlieasike) September 13, 2016
elsewhere a GHANIAN watching a movie with subtitles ???????? #KenyavsGhanapic.twitter.com/QxCKd3ufZ0 — KIOGOTHE WAWATHIFORA (@LosartasH) September 13, 2016
when you speak proper English in Ghana #kenyaVsGhanapic.twitter.com/3dQjHZgBkx — BABA MALCOM (@MtuPombe) September 13, 2016
when you speak proper English in Ghana #kenyaVsGhanapic.twitter.com/3dQjHZgBkx — BABA MALCOM (@MtuPombe) September 13, 2016
Spotted in Accra Ghana... ???????? #KenyavsGhanapic.twitter.com/DNGPevuyJ3 — Atanas (@atanasi_) September 13, 2016
Please i wanna ask ooo. Do Kenyans partake in the Miss World challenge? #KenyavsGhana — †ha ρ????υ?? ?σð (@Bra_Eli_PB) September 13, 2016