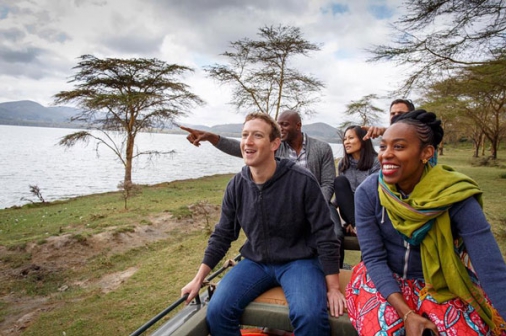 Mark Zuckerberg continued to enjoy Kenya with a visit to Lake Naivasha yesterday.
"For some good news, visiting Kenya means getting to see amazing natural beauty and wildlife," he posted on his page.
This comes after the Facebook billionaire made a surprise visit to Kenya, chose to lunch on Ugali and Fish at Mama Oliech's and visited iHub to interact with developers and entrepreneurs.
"The reason I specifically wanted to come to Nairobi is the fact that Kenya is a clear leader in mobile money," he said in a brief presser at iHub
"One of the things that is unique in Kenya is that mobile operators are the ones pushing mobile money while in other places, it is the banks," he said. "We could take a partnership approach like the model we have with connectivity and partner with local operators, banks and governments."
Zuckerberg further stated that his company was keen on building Internet access in Africa and other under-served areas, which make up the company's next growth segment.
However this venture suffered a major setback when a SpaceX rocket exploded at its Cape Canaveral, Florida launch pad Thursday morning destroying the rocket and the satellite it was due to launch on Saturday. The rocket was carrying a satellite to be used by Facebook to bring internet access to Africa, the Middle East, and Europe
"As I'm here in Africa, I'm deeply disappointed to hear that SpaceX's launch failure destroyed our satellite that would have provided connectivity to so many entrepreneurs and everyone else across the continent," Zuckerberg said.
He however assured people that they have other technologies that will connect people.
"Fortunately, we have developed other technologies like Aquila that will connect people as well. We remain committed to our mission of connecting everyone, and we will keep working until everyone has the opportunities this satellite would have provided."