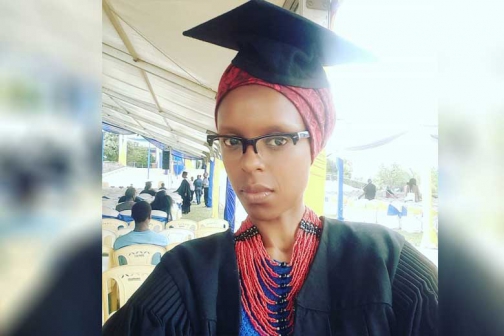 The struggle is real to many Kenyans out there and for Njambi Koikai aka Faya Mama, she has been to hell and back. Growing up in the ghetto and battling with health issues, she was recently rushed to hospital and underwent an emergency surgery after suffering from pneumothorax, partial collapse of the lungs.
Graduating last Saturday with a degree in International Relations, she wrote a long post about the journey and the breakthrough she is finally seeing.
''Long post alert...I have so much to say. Kwanza nikushukuru Jah Jah juu ya life. Allow me to speak in sheng we just made it to the Toronto International Film Festival with Tuko Macho. So hii life imenishow vitu mob sana. Ghetto hatuna opportunities mob na lazima ustruggle ndio utoboe. Wasee hawa believe in our music,our art na intellect yetu. Sisi ni wale wanyanya. Unaface life roho juu. Ngori za ghetto zinaweza fanya either ukuwe stronger ama u give up. Unacheki background UMETOKA, Unacheki wasee mmegrow now wakitoboa na wengine wakichapa. Unacheki mkidharauliwa because wasee wanaona ghetto haina talent ama intellect. Niko hapa kuwa show haijalishi mahali UMETOKA but kuna jeshi inakutambua na Jah Jah anakutambua. Work. Chapa wiraa soma kwa bidii. Tuonane 28th Dub In The Park...arboretum. 3rd degree in International Relations. Hii degree imechukua miaka nane kumada.Nimefail,nikarudia classes,nikagonjeka nikamiss madaro, nikaamua niwache chuo niendelee kuhustle. Shosho yangu kabla adedi wakiwa na madhe na siste wakanishow ni rudi chuo. Kusoma nikiwa msick was the hardest thing ever but nimeona Jah ni mreal na ananipenda. This goes out to my late granny,my mum and my sis and my home town 46 na number 4. Tunaweza Penya. Ghetto tuna ogopa Mungu, stima na njaa pekee yake hizo zingine tunaziface roho juu...usigive up ama ujidharau. Najua mummy amebambika mbaya...'' She posted over the weekend after graduating.
A popular reggae artist and media personality, she is known for pioneering and speaking up about conditions many forget exist. In aid of research, together with other artists they will be raising awareness and funds to go to Endometriosis Foundation of Kenya.