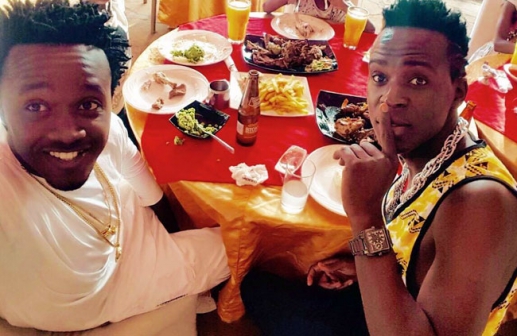 Last week witnessed a turn of events for two gospel bigwigs Bahati and Willy Paul who were spotted having lunch together at Oak Place.
According to a close source the two were seemingly having fun after Bahati invited Willy Paul Msafi over for lunch alongside his kids.
To prove their affair or re-union excited Bahati took the first initiative to post on his Facebook wall saying: "My kids & I invited @willypaulmsafi for lunch….." and then a minute later Willy Paul did the same adding: "Having lunch with my brother @bahatikenya and his kids, I swear nimeshiba ata siezi amka"
Following the news of their 're-union' many of their loyal fans are said to be excited terming it the beginning of bigger things to come after years of feuds.
Although questions have been raised as to whether it is an act of brotherhood or publicity stunt Willy Paul told SDE that they are since good friends and that there is no beef in the looming.
" Although a while back we had our misunderstandings which is a normal thing but the media fuelled it making it appear like we were permanent enemies," says Willy Paul who adds that he would wish to do a collabo with Bahati.
With the two having buried the hatchet with no bad blood between them the gospel industry that has been under siege with the likes of Willy Paul and Bahati holding on some immature beefs can now hope for better and positive things to come from the duo.
Speaking to SDE Willy Paul whose latest collabo titled "Take it Slow" with Sauti Sol has received mixed reactions and criticism among local gospel music lovers says fans should brace themselves for bigger and better things in the near future.
"We are currently planning on doing a work together in order to our critics wrong that there is no beef between us," he said adding that the rivalry in the Gospel industry is something of the past and they strive to preach peace and love among their flocks.
And it appears there is no stopping Willy Paul who is currently working on something new featuring a reggae artist from Jamaica.
Related Topics