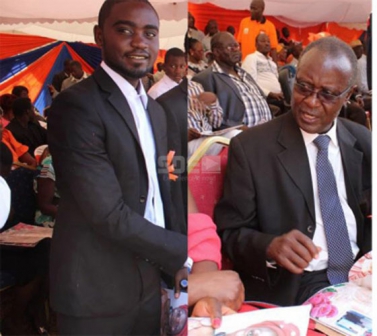 A doctor, who was last week stabbed 18 times by his son, has died. Michael Amolo, who until his death was a pediatrician at Aga Khan Hospital in Kisumu, succumbed to his injuries yesterday at Mater Hospital in Nairobi.
Read Also: How politician's son stabbed doctor dad 18 times in city estate
It had been an agonising week for Amolo family, who had to decide whether his life-support machine was to be switched off.
Sources close to the family said doctors had certified the medic brain dead and asked the family to make a decision on when to switch off the life support machine.
Dr Amolo was the husband of the late Monica Amolo, a former acting chairperson at the ODM Homa Bay branch, who died in a road accident last year.
The medic was also the former Provincial Medical Officer for Nyanza.
Trouble for Amolo began on April 23, when he paid his children a visit at the family's South C home.
When he arrived home, only his two daughters were there to receive him as their brother referred to as DJ, was away.
The following day, Amolo woke up and joined his daughters for breakfast, before asking one of them to call DJ, who was still asleep in his room.
According to police records, Amolo wanted to know why DJ had skipped his exams. He is said to have demanded to know from DJ if he was ready to sit his exams, but the 25-year-old showed no interest.
"The dejected father stood up and threw his hands in the air while exclaiming, 'I don't know what I will do to this boy,' as he walked towards the backyard of the house," said a relative.
DJ walked into the kitchen, picked a knife, followed his father along the corridor, where he stabbed him repeatedly until he lost consciousness.
Following the attack, Amolo was admitted at Mater Hospital. Yesterday, CORD leader Raila Odinga condoled the family, eulogising Amolo as a servant who left an imprint on his patients.
"I wish to convey my heartfelt sympathies to the family of Amolo at this moment of pain.
I also express very sincere condolences to the many friends of the medic and the people he served in different roles as a leading health worker in different parts of Kenya," said Raila.
The former premier described Amolo as a trailblazer in his profession and a medic whose legacy lives on, particularly in Nyanza region, where he was committed in uplifting people's lives through his profession and community service.
Related Topics