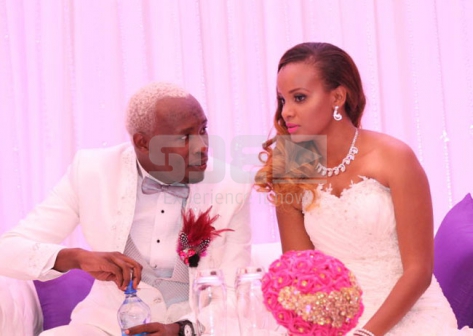 Owen Mwatia aka Daddy Owen and his long term Sweetheart Farida Wambui Kamau (group product manager at GlaxoSmithKline) now Mr and Mrs Mwatia beat all odds to become one- last Saturday.
The two met at Java Café – Junction one weekday evening 2012- during one of his business meetings. "Although I often watched him perform but I never thought he ever have eyes for me – considering his celebrity status and the number of women he met," says Farida.
Despite their numerous dramas as with any other relationships that sometimes them keep off each other for close to three months Owen describes Farida as a special woman who not only managed to tamed him into a better person he is today but also proved that she loved him for who he is as opposed to what he does.
"Despite our differences which is a normal thing in any relationship I was loving and supportive of Owen without necessarily wanting to own him," says Farida who was first unveiled by Daddy Owen in 2015 July when the MTV award winning gospel artist celebrated 10 years of his music career.
Farida is the first woman Owen introduced to his parents. "They knew that we were staying together. The thing is that we are not hiding the fact that we are in love."
The two were declared man and wife last Saturday at 1.50 pm( April 2, 2016) amidst family friends and a few celebrities – namely Churchill, Eric Omondi, Ringtone, Dunco and Daddy Owen's elder bro Rufftone.
During exchanging of the vows – a seemingly tensed Owen drew the crowd in laughter when he almost forgot part of his wedding vows
Prior to their wedding it took Daddy Owen two years to date her before he decided to finally pop the magic words 'will you marry me' during one of their private outings. This paved way for their wedding two years later at KAG church Buruburu.
It took them a year to plan for their wedding whose theme colour was golden white and pink.
" We had a hard time deciding on the nitty gritties – mainly the destination but we are glad that we finally settled on Nairobi."
Unlike most celebrities who are known to conduct their weddings in different churches or venues - Daddy and Farida chose to remain true to their house of worship KAG church Buruburu.
"This is where I always worshipped for the better part of time I lived in Buruburu. It has a special place in my heart," says Daddy.
Their wedding décor comprising floral set up, lighting and event planning for both venues including six cars took four hours. It was done by Catherine Nambisia of Classic Functions alongside her team. Nambisia who features on Samatha's Bridal as is behind many celebrity wedding says "We work within every clients' budget."
There were performances by Mercy Masika and Sauti Sol. During the event Koffi Olomide's Ekotite/Selfie got the crowd rocking with Owen and fiancée leading the way. Not to mention Sauti Sol's Sura Yako.
Emcees Dunco and Dr Ofweneke kept the crowd laughing all through with their unending – rib cracking jokes. At some point Ofweneke pleaded with Pulse Editor to have him appear on the magazine. But immediately our photographer took the pic of the Pulse Editor and him- Ofweneke directed him to caption the pic as Dr Ofweneke and a fan…..
Their wedding rings are from Tierra Jewelly store - Nakumatt
The bride's gown, the maids well fitting long pink dresses with silver laces and bouquets were from Bobo Weddings. While the groom and his wing's white fitting Italian suits were imported from the US.
The number of guests inclusive of the bridal team was 300. The reception was a private affair. "This was a time for us to spend time with family members and close friends," say Owen and Farida.
The state of art cake courtesy of Lizz of Cake Art was a huge affair. According to Farida it took her input / guidance on how the cake was to be done in terms of the feathers placed on it including the initials F and O at the top. I am glad that Lizz executed it so well."
Farida's Hair: a centre of attraction was courtesy of celebrity hairstylist Jayne stylist based in Nairobi's Westlands area.
The two are scheduled to leave for their honeymoon anytime- and will be headed to Europe- Belgium.
Rufftone was Daddy Owen's best man while Farida's sister was the best bridesmaid. Erick Omondi was among the grooms wing.
The two have a five year old son- whose life they would love to stay private.