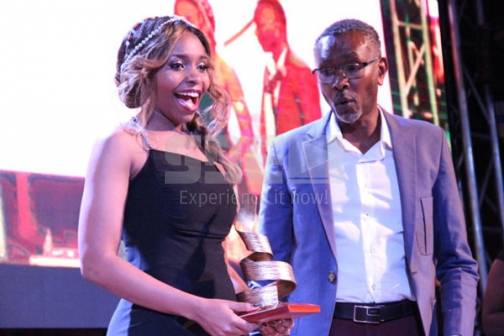 The Riverwood Awards 2016 took place on Saturday at the National Museums of Kenya.
The Awards founded by Mwaniki Mageria seek to recognise works of men and women who do low-budget films and have local content and stories at heart.
"Riverwood people tell Kenyan stories in the Kenyan way," said Mr Mwaniki during the launch at the Prestige Plaza attended by among others Kenya Film Classification Board CEO Ezekiel Mutua and his Kenya Film commission counterpart Lizzie Chongoti.
The winners of Riverwood Awards 2016 are:
Best Original Score
• Ilaa – Winner
• Still Alive Productions – Jastorina
• DJ Gylo – Sizla
• Njenga Mbugua – Anti Dre
Best Production Design
• The Team – New Beginnings – Winner
• Feisal Malik – Mr & Mrs Singh
• Solomon Muingi – Kisu Cha Ngariba
• Njenga Mbugua – Anti Dre
• The Team – Sage
Best Cinematography
• Lucas Sakwa – Ilaa – Winner
• Victor Ombogo – Confessor
• David Kariuki – Happy Anniversary
• Likarion Wainaina – Bait
• Granton Mwandawiro – Wicked
Best Supporting Actor in a TV Series
• Pascal Tokodi – Pray & Prey – Winner
• Anthony Maina Gichina – Haiyaya
Best Supporting Actress in a TV Series
• Peris Wambui – Ngahiha Cia Wendo – Winner
• Annete Emali – Kijakazi Chizi
• Chantelle Waceke – Pray & Prey
• Diana Nderitu – New Beginnings
Best Vernacular Film
• Uthui Wa Maimu 2 – Winner
• Uyu Ni Mwariguo
• U-Turn Ya Ngai Ndi Matuu
• Lak Chogo
Best Vernacular Series
• Ngahiha Cia Wendo – Winner
• Haiyaya
Best Actor in Film
• Samuel Ngunjiri – Confession – Winner
• Jacob Otieno – Sibini
• Mike Njeru – What Goes Around
• Solomon Muingi – Wicked
• Likobe – Sokomoko
• Gerald Langiri – Happy Anniversary
Best Actress in Film
• Jackie Kaboi – Bait – Winner
• Faith King'ola – Confession
• Jackie Wahome – Choices
• Gift Terry – Ante Dre
• Anastasia Mwawasi – Wicked
• Lydia Manani – Mad Love
Best Supporting Actress in Film
• Millicent Ogutu – Bait – Winner
• Muthoni Thiong'o – What Goes Around
• Ruth Wacuka – What Goes Around
• Euni Muigai – Vanity
• Wambui Ngari – Sage
Best Supporting Actor in Film
• Jacob Otieno – Sibini – Winner
• Ali Mwandigha – Dua La Mnyonge
• Denis Ragot – True Call
• Denmas Ndondo – Daytime Arrow
• Kevin Matongo – Morris & Me
• Brian Baha – Mad
Best Lead Actor in a TV Series
• Elly Yang Omugubi – Pray & Prey – Winner
• Aziricome Popo – Kijakazi Chizi
• Sospeter Kiritu – Hayiaya
• Ken Ambani – Mchungaji
Best Lead Actress in a TV Series
• Charity Wang'ondu – Gaterina – Winner
• Edith Ngala – Kiza
• Edyna Kerubo – Kijakazi Chizi
• Chantalle Waceke – Pray & Prey
Best Director in a TV Series
• Kimathi Iceberg – Haiyaya/Gaterina/Mr & Mrs Singh – Winner
• Sam Soko – Sibini
• Kang'ethe Mungai – Ngahiha Cia Wendo
• Gilbert Lukalia – Pray & Prey
Best TV Series
• Haiyaya – Winner
• New Beginnings
• Mr & Mrs Singh
• Pray & Prey
• Pendo
Best East African Film
• Galz about Town (Uganda) – Winner
• The Tailor
• Clans Wife
Best Film Director
• Martin Githinji – Happy Anniversary – Winner
• Jared Omondi & Austine Fraculah – Lak Chogo
• Likarion Wainaina – Bait
• Felix Warutere – Vanity
• Muchiri Mentor – Nduthi
• Granton Mwandawiro – Wicked
Best Feature Film
• Hidaya – Winner
• Intertwined
• Nduthi
• Kisu cha Ngariba
• Broken to Heal
Best Short Film
• Bait – Winner
• Happy Anniversary
• What Goes Around
• Confession
Living Legend and lifetime time achievement award
Oliver Litondo
Film warrior of the year award
Planet Media Cinemas
Additional information hapakenya.com