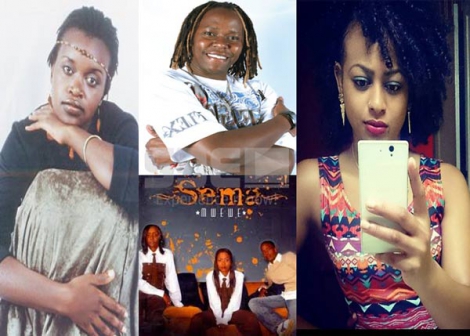 BY CAROLINE NYANGA
They came, saw and conquered with their debut singles before disappearing into thin air never to be heard again. We are well aware of one hit- wonders all over the world and Kenya is no exception.
With the ever evolving local music industry there is no denying that the competition has widened and in order for any artist to remain relevant in the game, he/she needs to up their game.
Whether this artists run out of ideas or the inspiration to write music just dies, today many are left wondering what happened to them after a good start with massive tunes.

Below is a list of some of Kenya's one hit wonders. Although some tried to make a comeback, we all can relate to them based on that one song they did.

Shavey and Slice
The two who were once famed for their chartbuster Gyal that hit the local music scene like bushfire have since sunk into a musical abyss never to be heard again.
Observers will agree that so popular was the single that it played around the clock in most matatus coining them the name as the new biggest dancehall group locally and in Jamaica (where they received adequate recognition.) 
Today close to a decade upon its release Gyal still remains the best dancehall song in Kenya being accorded immense airplay locally and remains a club banger. The duo seems to have vanished eliciting suggestions that they may have quit music for a different career.
King Georges
Once famed for the hit single Unanijaz is also a victim of one hit wonders.
Whatever happened to him and his music career, we cannot tell but despite this there is no denying that he was talented. 

Sema
Formed in 2004 after the Coca-Cola pop star search comprising of Kevo, Pam and Sana is no exception. Indeed their single Leta Wimbo became the talk of town despite topping the local charts for weeks.
Just when they were at the peak of their career, the group parted ways in 2005, something that did not go down well with most of their fans.
Since then it appears than apart from Sanaipei who still remains relevant musically, the other members are rumored to have quit music to venture in to other careers due to dwindling misfortunes. 
Henry Mutuku
Gospel queen cum Kora award winner famed for the chartbuster Usichoke featuring Rufftone is one person who made a sudden exit. Much to the chagrin of her fans who are still asking questions and wondering what became of her. Henry who was making a name for herself relocated abroad where she was reportedly busy working on her album. Her return to the country has been a quite one. The last we heard of her is that she was happily married.
Chantelle
Truth is, if it wasn't for 'Toklezea' featuring Abbas we would have never heard of Chantelle. Nevertheless, we did and within no time she became the talk of town though not for long. Days, months turned into years and we never heard any song from her. 
The only thing we are well aware of is that she saw the light and that she is married to music producer J Blessing. We still hope to hear from her.

Darlin P
4 in 1 burst in to the local music scene with the hilarious "Mboof mbaf yoo, Ugitaka soma lebo, soma soma lebo na fioja live crew," before sinking into an abysmal quagmire for reasons best known to him.  The guy should make a comeback we will accept him the way he is.
Flexx
Former Calif records rapper whose singles Namba Yako and Nyundo ft Juacali just to name a few were a force to reckon with, also vanished at the peak of his career.
The musician who is currently based in Sweden where he is doing business returned back to Kenya in 2011 after a span of five years promising more surprises for his fans. It's been close to a decade and nothing coming from him. We need more music Flexx.