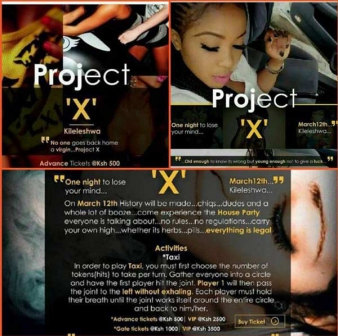 BY GEORGE ORIDO
The Chief Executive Officer of the Kenya Film Classification Board Dr Ezekiel Mutua has come in to intervene on the planned March 12, of the latter day Sodom and Gomorrah event in Nairobi.
Mr. Mutua reacted to an advertisement by some group calling itself Project 'X' Kileleshwa who has some grand ideas about people meeting and abusing drugs and having groupies.
"This is unacceptable," he posted on his Facebook page.
He said his team at Uchumi House are on high alert and has put the activities on the radar, "We are monitoring it and several others and police have been alerted."
"On March 12th History will be made… chics…dudes and a whole lot of booze. Come and experience the House Party everyone is talking about," called out the poster with young raucous couples on a grind on the background.
But the most shocking part of the advert is a hint of a lawless group that will make the Biblical Sodom and Gomorrah a child's play.
"No rules, no regulations. Carry your own high whether herbs, pills – everything is legal," continued the poster.
Yet the part of the advert describing the activities is what has made parents worried - some of them calling The Standard newsroom asking if the planned event was legal, and how their children could be protected from such immoral escapades.
"In order to play Taxi, you must first choose the number of tokens (hits) to take per turn. Gather everyone into a circle and have the first player hit the joint," describes the poster.
It continue to say that Player 1 will then "pass the joint to the left without exhaling. Everything goes… the less you wear the better."
Dressing code for the women, "Ladies wear something tight or nothing at all."
On what the organizers call 'One Night to Lose Your Head', the age limit is to be old enough to know this is wrong and young enough let loose with gate tickets ranging from Sh 1000 and Sh 3500 VIP.
Mr Mutua has appealed to the public to inform his organizations of the ticket sale points as pointed on the posters.
"Could anyone be having information on where exactly these tickets are being sold or the venue for the proposed party," he pleaded asking those in the know to also share the same with Deputy Inspector General of Police Mr. Joel Kitili.
Many on social media have reacted with shock whilst others have shared that such brothels continue to thrive in the city unabated.