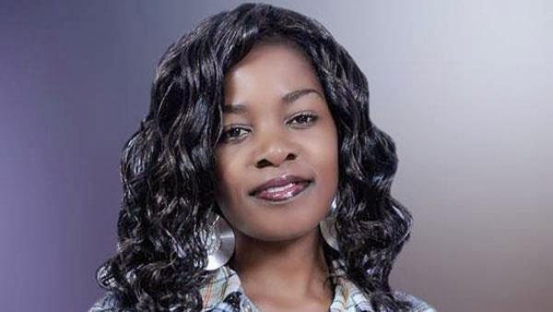 Multiple award-winning gospel songstress Gloria Muliro whose passion for gospel music goes beyond a mere hobby and a means to make ends meet has endured unbelievable hardship to come out victorious.
Looking fit and relaxed, it is hard to believe that the 36-year old beautiful, classy, confident and social figure seated before us has passed through agonies of life but managed to conquer them by God's grace.
"Where could I be without his hand?" she poses in an interview with this writer, adding that anything that does not honor and give glory to God is of sin. There is no neutral path, its either you are serving the living God or Satan.
The fourth born in a family of five, born to David and Esther Muliro in Vihiga District, Western Kenya, Gloria describes her upbringing and childhood experiences as humble.
Her golden voice is the magic behind the award winning titles like Sitolia,  Kitanzi done in collaboration with Willy Paul just to name a few.
"These awards have humbled me. Nothing goes wrong if you are covered (by the blood of Jesus) in salvation. I would like to dedicate these awards to my fans for their unconditional love and support despite being a great pillar that always brightened my dimming stars," she says with tears welling up her eyes.
Her struggles started right from her childhood to a five- year shaky marriage that finally ended in divorce in early 2015.
Gloria's love for music begun way back in 1997, as a Form Two student at St Theresa Girls. The born again Christian ventured into Praise and Worship songs with several singing groups within Western Province- in order to nurture her passion for music.
"There were times when people would laugh at my voice because they felt it was not good enough," she says, adding that despite this she chose to follow the yearnings of her heart – to become a gospel singer.
Six years down the line lady luck smiled on Gloria when she managed to impress fellow singers and a pastor during a huge church congregation.
"The moment I sang a rendition of Alipo Yesu Yote Yawezekana (Where Jesus is Everything is Possible) the crowd went wild. Others even encouraged me record my own music."
Having heeded their advice in 2005, Gloria embarked on a musical journey of recording her debut album Omwami Aletsa  (God is Coming)  – sang in Luhya language and recorded at a studio within Nairobi's River Road.
"Unfortunately, it was not accorded adequate airplay by various media houses despite the fact that Omwami Aletsa became a huge hit in Western Kenya"
Not willing to give up, she embarked on her  second album Kibali  (mandate) produced in 2012 with the famous hit single Sitolia ((I Won't Cry) featuring gospel singer Willy Paul – that turned out huge culminating her into the limelight besides stamping her authority as the next big thing in the local gospel industry.
Not only did awards come her way but she also got the chance to stage endless shows across the country besides being accorded immense airplay and interviews by various local media houses.
Today more than a year after her divorce hit the headlines, Gloria says she is happy adding that she has since moved on and there is no turning back.
 "I am soldiering on with my life," said Gloria when asked about rumors that she and her ex-husband were getting back together.
Gloria married Pastor Eric Omba Miko in 2009 in a colorful wedding, but walked out of the marriage, citing infidelity.
She told this writer that she was now happy, having found peace which had eluded her before.
"One of the things I appreciate and will never take for granted is the inner peace and happiness which I lacked in my marriage at a time when I was lost, but God found me, rescued me besides showing me the way. The person you are looking at now is very different," said Gloria, adding that although she was well aware of her husband's infidelity among other issues but she chose to ignore them hoping and praying that things would change for better.
In an earlier interview, Gloria said that she did not want to deal with outsiders, but after years of patience and perseverance God decided to show her the truth. Gloria had revealed that Eric, who was also her manager, started being a control freak and dictated everything around her career and worse even began misappropriating funds earned from her music career.
During that interview, she revealed that the first insight into his love for money was during the night of their honeymoon. Eric reportedly waited for her to go to the bathroom and before going through the gifts they had received at the wedding, took the money from the envelopes and stashed it in his pockets.
This, however, did not make Gloria leave as she believed in marriage and the African culture that it is a woman's role to keep a marriage together and so, she says, she stayed put because she thought it would work.
Gloria said that cracks began emerging during the first month after Eric began accusing her of all manner of things and never gave her time to talk.
"He even wrote down a set of rules that I had to follow. In that first month, he sent me over to a friend's place saying to teach me how to cook and keep good hygiene only to discover that I was being turned into a house girl," said Gloria. She added that: "He went back to our house and expressed delight at how he was happy at home without me.
"In the first year, he packed my clothes and asked to escort me away. He had gotten violent over time and he offered no space for communication and dialogue," the Sitolia hit maker claimed.
"Someone may ask why it took me five years. I was determined to make it work. I am not saying I tried my best, no. I did my all best in fact," said Gloria.
"People may criticize from afar but they have no idea what I was going through. Only the few people in my circle know and can tell," she said. "It has been a challenge and a learning process. Through it all, I have learnt a lot of lessons. It wasn't easy," she added.
But despite life hurdles has successfully continued to walk the path. Her latest moving single Ndiyo Yako has been well received among local gospel music lovers.
Gloria who has been on a countrywide tour and abroad is expected to launch a number of projects soon.
"I have recorded a number of songs that will be released soon. I could also be putting up a new production house but can only give details when the right time comes," she said. "I am happy, far much better. God has been good to me. I give Him all the glory," she added.
Today the musician with several hits says her aim is to spread spread the Gospel through her music despite piracy.
Citing her family and producers; Dreamland, Bize Bees, Link and Eagle as having been supportive of her career Gloria whose role models include Christina Shusho, Rebecca Malope, Cece Winans and the late Angela Chibalonza advices  upcoming gospel artist to be patient, work hard and aim to spread the true Gospel.
Gloria who also owns a charity foundation, The Gloria Muliro Foundation, which she uses as a conduit to do charity work says it caters for needy children within the region.
A former teacher she hopes to take gospel music to greater heights of success. "With God, nothing is impossible," she says.