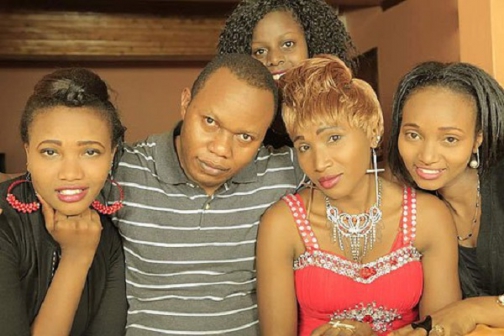 Remember the photo that showed Gloria Muliro's ex-husband posing with a party of young girls? Well its back and the skeletons seem to be coming out of the closet yet again.
 Posting a message on his social media pages, Pastor Eric Omba said:
"Sometimes Back this picture was all over in media, Eti Eric Omba having Affair with these pretty young Ladies Whom I call them my Daughters and they call me Dad ..Am the father and I will never stop being the Father of Many Just because the devil is using someone to ruin people's good Reputation and I will never shy to love and support anyone that God brings on my way. CAN I HEAR AN AMEN"
He then attached a photo he took together with the girls back then.
Gloria Muliro and estranged husband, Pastor Eric Omba's marriage hit rock bottom when the singer claimed that her husband, was having a number of affairs with young girls he was said to be 'mentoring' both at his church and studio.
Gloria could no longer put up with it and preferred to end their marriage.
One year down the line, Omba has come out to clear the air over the infidelity allegations that were levelled against him that costing his marriage .
Meanwhile, Gloria Muliro is fast moving on as a single lady as Omba tries hard to clean his slate and hope for the best.