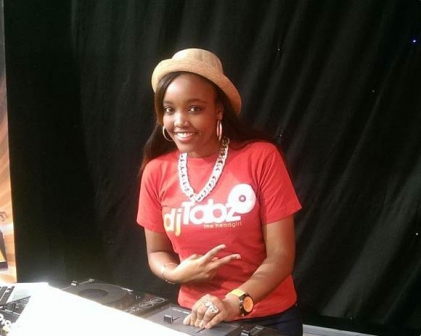 By Sheila Kimani (@sheilakimm)
"People think deejays just have the deck skills, forgetting that some have highly educational qualifications. That's why I'll be joining the school of law soon to complement my Bachelors of Law degree." Tabz explained while on the gospel night radio show alongside Dj Ruff.
Upon winning in the G10 Talent to watch Groove Award category last year, Dj Tabz was elated. Taking to the stage in her flowy ensemble, she had proved that following one's passion had its rewards. What had started out as a passion back in her high school days had culminated to a fully-fledged career that was now winning her awards.
In a male dominated industry, Tabz was one of very few female gospel deejays in Kenya having mastered her skills at System Unit. Besides her awards she served as a beacon of hope to many young girls who dared to venture in male dominated fields.
"I'm always overwhelmed when lady fans come up to me with stories of how they keep struggling to work in male dominated fields. Better yet, some aspire to become deejays and I always wish them a lot of success, patience and persistence because it's not easy," Tabz added.
While happy to join the Kenya School of Law this week, Tabz also thanked Dj Ruff for playing an instrumental role in her deejaying career.